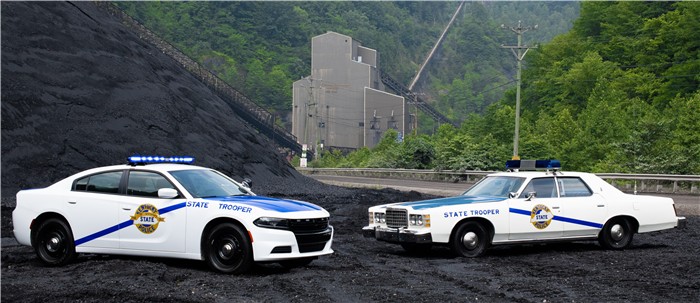 FRANKFORT, KY – The Kentucky State Police (KSP) is seeking its third consecutive win as 'America's Best-Looking Cruiser' and invites Kentuckians to vote online in support of the agency. KSP won back-to-back championships in 2021 and 2022, earning the coveted calendar cover spot on the AAST yearly calendar. The agency has placed in the 'Top 3' in the past four years.
"We encourage all of our citizens to vote for KSP and help our state be recognized again on a national level," said Gov. Andy Beshear. "KSP works every day to create a safer Kentucky, and voting is one small way we can show our appreciation for their 75 years of service and protection."
The American Association of State Troopers (AAST) host an annual calendar contest and encourage state police agencies across the nation to submit a photo entry that is unique and represents their state. The winning photo will be featured on the cover and premiere in the January month of the AAST 2024 wall calendar.
For the 2023 entry, KSP incorporated a way to share their 75th Anniversary celebration in the backdrop of Kentucky's heart and soul – Coal Country!
KSP wrapped a 2022 Dodge Charger with a blue and white paint scheme to match the markings of a 1978 Ford cruiser. The photo was captured at the Blue Diamond Coal Co. located in Hazard, Ky.
"Kentucky is known internationally for its coal mining industry and the hard-working individuals who work in the mines," said KSP Public Affairs Commander Paul Blanton. "Our team intertwined the beauty of Eastern Kentucky splashed with two iconic symbols in that area, coal mines, and Kentucky State Police."
Voting begins Monday, July 17 at 10:00 AM EST at https://www.surveymonkey.com/r/bestlookingcruiser2023 . Voting ends on Monday, July 31, 2023, at 8:00 AM EST. The top 13 finishers will earn a spot on the 2024 calendar.
Beshear-Coleman Administration Commitment to Making Kentucky a National Leader in Public Safety
The Beshear-Coleman administration's top priority is the safety of all Kentuckians. The Governor's public safety actions are creating safer communities and a better Kentucky now and into the future.
Since taking office, Gov. Beshear has awarded almost $8 million in grant funding to assist state and local law enforcement agencies. In September 2022, the administration announced nearly $2 million in grant funding to enhance public safety, curb the sale of illegal drugs and fight addiction.
In July 2022, the Governor also announced additional steps to enhance public and officer safety, including a Western Kentucky training site feasibility study and an increased training stipend for law enforcement officers.
In June 2022, Gov. Beshear announced the Military to Law Enforcement Program (M-2-LE). M-2-LE allows local law enforcement agencies in Kentucky to hire active service members within all U.S. military branches during their last 180 days of service.
In April 2022, the Governor signed legislation he championed the previous year that funds a $15,000 raise for all troopers and a starting pay increase for sworn officers from $37,887 to $55,888 annually. In signing Senate Bill 209, Gov. Beshear established paid vacation, sick leave and holiday pay, as well as enhanced health insurance contribution payments for retired KSP troopers and commercial vehicle enforcement officers.
Also, as the Governor recommended in January 2022, $12.2 million was included in the state budget for KSP to purchase body cameras, which is the first time in the commonwealth's history that funding has been allocated for this much-needed expense. Earlier this year, KSP demonstrated the new recording system, which will be distributed to approximately 780 sworn personnel.
# # #