GREAT CACAPON, WV – Maryland State Police Aviation Command took flight Tuesday evening and rescued a young woman after her car plunged off a cliff in West Virginia.
The injured 19-year-old was trapped inside her vehicle after it traveled off the road and rolled down a 70-foot embankment above the Cacapon River, located near the Maryland, West Virginia border. Crews responded shortly after 7:35 p.m. to Power House Road in Morgan County, West Virginia.
She was extricated and treated for injuries before being placed in an inflatable raft and floated down river to an accessible hoisting point. The woman needed aerial rescue because of steep terrain, severity of her injuries and the car's precarious position in the ravine.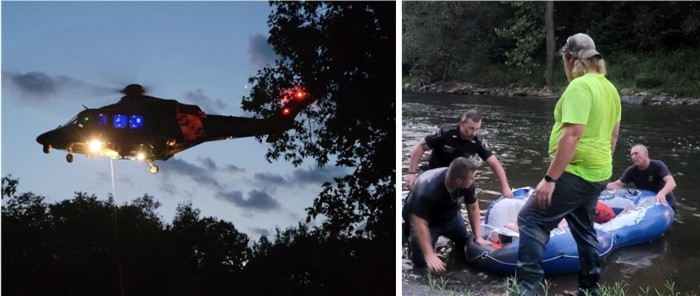 Pilots on Trooper 5, Cumberland Section, maneuvered the August AW139 helicopter 130-feet above the rocky terrain while a trooper/paramedic was lowered. The trooper/paramedic secured the woman in a patient extrication platform with the assistance of Great Cacapon Volunteer Fire Co. and rescuers from Allegany and Washington counties. She was flown to R Adams Cowley Shock Trauma Center in Baltimore for treatment.
The MSPAC has served Maryland citizens since 1970 and operates a fleet of 10 AW139 helicopters from seven bases throughout the State. Each aircraft provides round-the-clock coverage to Maryland residents and visitors.
Each helicopter is staffed with two pilots and two state trooper/medical clinicians. The agency's missions include medevac, law enforcement, search and rescue, homeland security, and disaster assessment. The success of the missions relies heavily on the cooperative efforts of local fire, rescue, EMS, law enforcement agencies, and our partners at the U.S. Coast Guard and the U.S. Park Police.
Photos credited to Morgan County EMS.
###