LONDON, KY - Laurel County Sheriff John Root is reporting that: Laurel Sheriff's Deputy Zach Allen arrested Tyler Britton age 28 of Corbin on Wednesday night August 9, 2023 at approximately 10:23 PM.
The arrest occurred off Felts School Road, approximately 10 miles South of London after deputies were dispatched to an apparent assault complaint.
Upon arrival at the scene deputies noted observing a male subject being restrained by two female subjects in the yard there.
Deputies learned through investigation that allegedly the male subject had assaulted a female subject there.
In addition, it was learned that this subject had allegedly went to a neighbor's door kicking the door and yelling and screaming and creating a disturbance.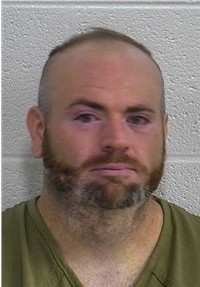 It was also determined that this individual was under the influence and he was taken into custody.
Tyler Britton was charged with:
Disorderly conduct – second-degree
Assault – 4th degree
Menacing
Alcohol intoxication in a public place
This individual was lodged in the Laurel County Correctional Center.
Photo of the accused attached is courtesy of Laurel County Correctional Center.
Assisting at the scene were Laurel Sheriff's Interdiction Unit Justin Taylor, Deputy Wes Brown, and Laurel County Constable Robert Smith.