Nominated as part of annual America's Transportation Awards recognizing impactful DOT work
FRANKFORT, KY (Sept. 15, 2023) – Gov. Andy Beshear today announced that the Kentucky Transportation Cabinet (KYTC) is in the running for a national award for its quick response to a tornado that demolished much of Mayfield in 2021.
The competition, America's Transportation Awards, was created to highlight the impactful work of state transportation agencies.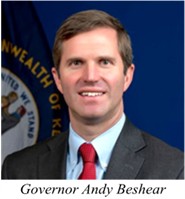 "Our Transportation Cabinet crews responded rapidly when that devastating and unprecedented tornado outbreak swept down upon Mayfield and many other communities throughout Western Kentucky," Gov. Beshear said. "Streets and roads had to be cleared – and quickly – before any other recovery effort could begin. Recognition of the cabinet's efforts is gratifying, though no one was thinking about awards at the time."
Kentucky Transportation Secretary Jim Gray noted that 14 western counties suffered tornado damage, but Mayfield and surrounding Graves County took the brunt of it, accounting for half the total debris. "Conditions were particularly dire in Mayfield. Our crews faced a monumental task but worked tirelessly to get roads cleared," Secretary Gray said.
The cabinet's Mayfield tornado response project was one of 12 projects that emerged from four regional competitions to compete for two national 2023 America's Transportation Awards. Others were from state departments of transportation in Florida, Georgia, Illinois, Iowa, Maine, North Carolina, Pennsylvania, South Dakota, Texas, Utah and Vermont.
Kentucky's project was recognized regionally for "Operations Excellence, Small Category" – meaning $25 million or less – by the 10-state Mid-America Association of State Transportation Officials.
The annual America's Transportation Awards are sponsored by the American Association of State Highway and Transportation Officials (AASHTO), AAA and the U.S. Chamber of Commerce to showcase the crucial role that transportation plays for all roadway users – motorists, cyclists, pedestrians, and public transit riders.
Projects are nominated in three categories – Quality of Life/Community Development, Operations Excellence, and Best Use of Technology and Innovation. They range in scope: up to $25 million; $25 million to $200 million, and more than $200 million.
The "Top 12" finalists announced by AASHTO then compete for two national prizes – the Grand Prize, decided by an independent panel of judges, and the People's Choice Award, which is decided in online voting from the general public. Voting is weighted to account for differences in population. Click here to vote and get contest information.
The two winners will be announced in November at the AASHTO annual meeting in Indianapolis. The Grand Prize and People's Choice Award winners will receive $10,000 each toward their preferred scholarship or charity.
###