CAMPBELLSBURG, KY – Accordig to the Kentucky State Police (KSP): On Saturday, September 16, 2023 a KSP Post 5 trooper attempted to conduct a traffic stop at approximately 3:30 P.M. on a vehicle traveling south on Interstate 71 near the 21 mile marker in Oldham County.
KSP say the vehicle failed to stop and continued traveling south on I-71 at a high rate of speed. During the pursuit KSP Post 5 dispatch determined the vehicle was entered as stolen.
The fleeing vehicle exited Interstate 71 at exit 14 and struck a white GMC SUV that was traveling north on KY 329.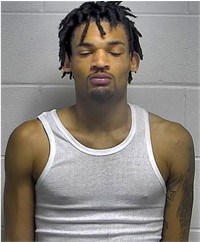 The operator of the fleeing vehicle was taken into custody and identified as Tymetrius Demont Walter, a 23 year-old male of Louisville Kentucky.
A juvenile passenger in the white GMC SUV sustained fatal injuries as a result of the collision. The operator of the GMC was transported to the hospital for treatment of non life threatening injuries.
Tymetrius Walter was transported to the Oldham County Detention Center.
Tymetrius Walter is charged with:
SPEEDING 26 MPH OR > SPEED LIMIT
FLEEING OR EVADING POLICE, 1ST DEGREE (MOTOR VEHICLE)
RECKLESS DRIVING,,WANTON ENDANGERMENT-1ST DEGREE
WANTON ENDANGERMENT-1ST DEGREE-POLICE OFFICER
RECEIVING STOLEN PROPERTY $10,000 OR MORE
MURDER
NO OPERATORS-MOPED LICENSE
ASSAULT, 1ST DEGREE
This individual lodged at the Oldham County Detention Center.
Photo of the accused is courtesy of the Oldham County Detention Center.
This is an ongoing investigation being conducted by Kentucky State Police Post 5, Campbellsburg.
# # #