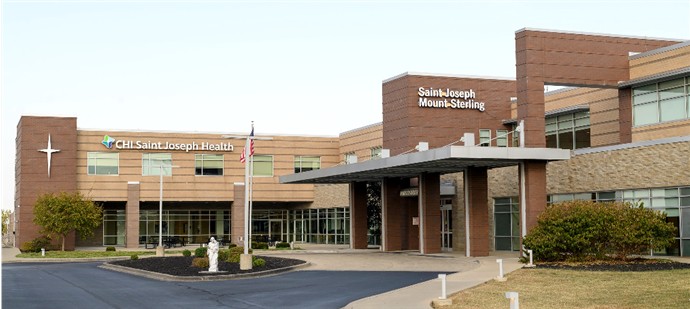 Program provided quality care to patients while achieving $2.3 million in savings for Medicare
MOUNT STERLING, KY- CHI Saint Joseph Health Partners recently announced that it delivered improved quality scores and enhanced care outcomes for 6,686 Medicare patients, while realizing $2.3 million in savings for Medicare for the 2022 performance year of the Medicare Shared Savings Program (MSSP). Created by the Centers for Medicare and Medicaid Services (CMS) in 2012, MSSP was designed to improve care for patients while making health care more affordable.
"The work that we do is more than closing quality care gaps," said Dorothy Lockhart, market vice president. "It is about doing our very best to ensure that the right care is delivered at the right time and at the right place. It includes a promise to communicate clearly and to coordinate services correctly and proactively for our patients. It is a challenging time in health care and I have never been more proud of the work our team does to bring the healing presence of God to those in our community,"
CHI Saint Joseph Health Partners is a leader in value-based care by participating in the most advanced alternative payment method, MSSP Enhanced track. With over 500 participants, CHI Saint Joseph Health Partners is able to bring coordinated care close to the homes of the patients it serves across central and southern Kentucky. CHI Saint Joseph Health Partners demonstrates high quality scores across multiple measures, reflecting dedication to hundreds of small changes that make a big difference for patient outcomes and experiences. Actions such as tracking utilization across multiple care sites and connecting patients to both clinical interventions and community resources, where appropriate, are helping patients stay healthier, use less costly services and live better lives.
The program encourages patients to take responsibility for their own health care, which creates opportunities for better compliance for health directives. A Health Partners registered nurse recently worked with a patient who had a history of noncompliance for follow-up orders. Months later, the patient reached out to the nurse following another hospitalization, stating, "You have been a help to me in the past, I decided I should reach out again." She assisted the patient and praised him for seeking help with a heart monitor issue instead of removing the monitor and not dealing with the problem, as he might have in the past.
The program continues to support collaboration and innovation. CHI Saint Joseph Health Partners physicians who serve on the board of managers often express their appreciation for the program bringing community providers of varied training and backgrounds, management, and local Medicare recipients together to achieve common goals – most importantly to improve patient care for their neighbors. With patients at the center of their efforts, our Board of Managers and physician-led subcommittees, such as Quality & Value Committee, create and implement ways to enhance quality, experience, efficiency and reduce the costs of our health care services.
A focus on financial accountability and quality measures has allowed CHI Saint Joseph Health Partners to continue to deliver high quality, affordable care in their communities.
Key results:
Overall Final Quality Score exceeding the ACO 30th percentile by 15.71 percentage points.
Exceeding ACO 30th percentile score in quality measures such as fall risk assessment and A1c control for patients with diabetes.
Exceeding ACO average for patient satisfaction for 7 of the 10 measures including largest advances in Stewardship of Patient Resources, Access to Specialists, Care Coordination, and Shared Decision Making.
These results and examples highlight just a few of the ways CHI Saint Joseph Health Partners is improving the lives of those they serve and achieving significant results for Medicare beneficiaries through the MSSP program.
About CHI Saint Joseph Health
CHI Saint Joseph Health, part of CommonSpirit Health, is one of the largest and most comprehensive health systems in the Commonwealth of Kentucky with 100 locations in 20 counties, including hospitals, physician groups, clinics, primary care centers, specialty institutes, home health agencies and an ambulatory Care Center. The hospitals in CHI Saint Joseph Health are Flaget Memorial Hospital, Saint Joseph Berea, Saint Joseph East, Saint Joseph Hospital, Saint Joseph Jessamine, Saint Joseph London, Saint Joseph Mount Sterling, and Women's Hospital at Saint Joseph East. In total, the health system serves patients in 35 counties statewide. CHI Saint Joseph Health is dedicated to providing a wide array of services toward a goal of building a healthier future for all. CHI Saint Joseph Health embodies a strong mission and faith-based heritage and works through local partnerships to expand access to care in the communities it serves.
About CHI Saint Joseph Health Partners
CHI Saint Joseph Health Partners is a care management company with a network of primary care providers, specialists, hospitals, ancillary services, skilled nursing facilities and agencies that collaborate to ensure that their patients conveniently receive the highest quality of care and value. Nearly 3,000 providers across Kentucky participate in the network. The company's compassionate care management team, leveraging state-of-the-art information systems, coordinate care for patients of all ages, regardless of their location or the provider. In addition, CHI Saint Joseph Health Partners is the most advanced Medicare-certified Accountable Care Organization (ACO) in Kentucky, and recognized in the Medicare Shared Savings Program (MSSP). CHI Saint Joseph Health Partners has been recognized four times among "100 Accountable Care Organizations to Know" by Becker's Hospital Review, and has been cited in several national reports and publications.
###