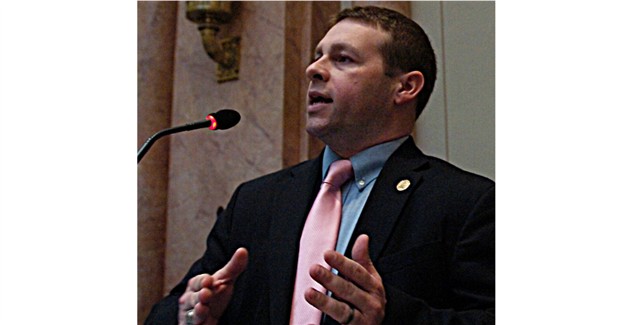 Rep. Brandon Reed, R-Hodgenville, presenting HCR 53 regarding daylight saving time on the House floor.
FRANKFORT, KY—States that want to spring forward and never turn their clocks back just got some help from the Kentucky House.
By a vote of 92-2, the state House yesterday passed a resolution urging Congress to allow Kentucky and other states to permanently adopt daylight saving time, or DST. House Concurrent Resolution 53, which also requires the state Senate's approval for final passage, now goes to that chamber for consideration.
Rep. Brandon Reed, R-Hodgenville—who along with Rep. Bart Rowland, R-Tompkinsville, is a primary sponsor of HCR 53—said "significant interest" in the legislation has been shown by constituents "who want more daylight hours in the evening and, most importantly, not have to change clocks throughout the year."
But whether or not a change is made is ultimately up to the federal government which sets the dates for daylight saving time—also referred to as "daylight savings time" and "daylight time." Those changes must be approved by Congress, which is where HCR 53 sponsors hope the legislation will shed some light.
"With this resolution we are asking them to either go all year or allow the states to make the decision permanently, (hashtag) free the daylight," said Reed.
Some other states have already approved legislation to make DST permanent, with Florida, Washington, and Tennessee among them, he added. Until a change is made by Congress, however, the laws have no effect.
One lawmaker voting in support of the resolution was Rep. Wilson Stone, D-Scottsville, who said Kentuckians have become "accustomed to such long afternoons."
"Hopefully it will be something the federal government will decide is good for all of us, and will allow us to do it," Stone told his colleagues.
Daylight saving time in Kentucky this year will begin on Sunday, March 8 and end on Sunday, Nov. 1.
END