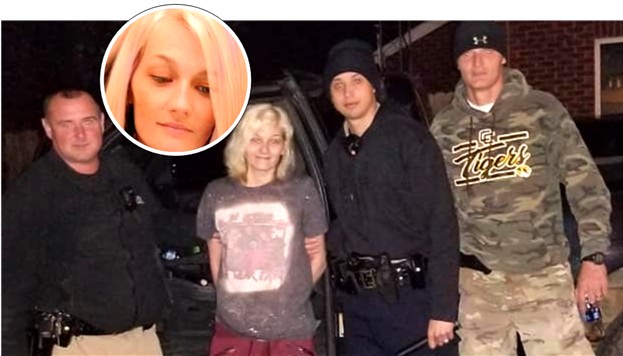 MANCHESTER, KY - The Clay County Sheriff's Office is reporting that: On December 29, 2020 at approximately 8:00 PM Clay County Sheriff Patrick Robinson along with CSO Supervisor Dewey Grubb, Deputy Coty Arnold and K9 Deputy Wes Brumley with K9 Ghost arrested Ashley B. Lewis, 30 of London.
Ashley B. Lewis was wanted for "Complicity to Commit Murder", regarding an incident that happened in Laurel County where a Manchester man was fatally shot on Sunday afternoon December 20, 2020 at approximately 2:00 PM.
The arrest occurred after Sheriff Robinson received a tip that the above mentioned subject was at a residence off of Cool Springs Road.
Upon arrival, Sheriff Robinson and Deputies surrounded the residence and located the above mentioned subject attempting to hide in a bedroom.
The above mentioned subject was placed under arrest without incident.
The Clay County Sheriff's Office did not realease any information as to where Lewis was lodged or what charge(s) she is actually facing. At the time of the publishing of this article, neither the Clay County Dentention Center or the Laruel County Correctional Center are showing any information regarding Ashley B. Lewis. (she could be lodged elsewhere or possibly is still being interrogated by police).
Arrest scene photo is courtesy of Clay County Sheriff's PAO Trent Baker.
Inset photo of the accused provided by the Laurel County Sheriff's office.
RELATED ARTICLE: Cash Reward Being Offered for a Southeast Kentucky Woman Wanted for "Complicity To Commit Murder"