FRANKFORT, KENTUCKY (December 21, 2021) - On Monday, Attorney General Daniel Cameron announced that a partnership with local law enforcement agencies led to the arrest of Nathaniel Johnson, 28, of Shelby County for child exploitation charges.
Nathaniel Allan Johnson was arrested and charged with:
Four counts of unlawful use of electronic communications system to induce a minor to engage in sexual or other prohibited activities (Class D Felony)
Two counts of abandonment of a minor (Class D Felony)
Four counts of attempted distribution of obscene material to a minor (Class A Misdemeanor)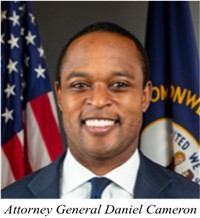 Attorney General Cameron's Cyber Crimes Unit worked with the Shelby County Sherriff's Office and Lawrenceburg Police Department in an online joint sting operation that led to the arrest.
The Attorney General's Office is committed to partnering with local, state, and federal law enforcement agencies to proactively locate and apprehend child predators.
The charges are allegations, and the defendant is presumed innocent unless and until proven guilty.
###