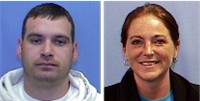 Attorney General Jack Conway and his Office of Special Prosecutions have announced the guilty pleas of two Nicholasville residents in connection with a string of home invasions between July and September 2012.
Twenty-eight-year-old Erick Reynolds faces 10 years in prison after pleading guilty to nine counts of burglary, 2nd Degree, and to being a persistent felony offender, 2nd Degree. He faces an additional two years in prison after pleading guilty to one count of theft by unlawful taking, a Class D felony. By law, the sentences will run consecutively to the eight years Reynolds received last year following his conviction on burglary, 2nd Degree.
Shaylin Floyd, 32, entered a guilty plea today to nine counts of complicity to burglary, 2nd Degree, and faces a sentence of five years per count to run concurrently. By law, the sentence will run consecutively to the one year sentence Floyd received in Fayette County in 2009, for which she has not served time yet.
"I appreciate the hard work of my Office of Special Prosecutions and local law enforcement in bringing this case to a successful close," General Conway said.
The charges against Reynolds and Floyd were the result of an investigation by the Nicholasville Police Department and Jessamine County Sheriff's Office after the burglary of eight homes, attempted burglary of a ninth home and theft of property from an automobile.
Attorney General Conway's Office of Special Prosecutions handled the prosecution of this case at the request of Commonwealth's Attorney Thomas Lockridge, due to the fact that a prosecutor in his office was among the burglary victims.
Reynolds and Floyd will be sentenced on April 12, 2013 at 9:00 a.m. in Jessamine Circuit Court.
A third defendant in the case, Ala "Mike" Samaan, has a separate trial date of March 25, 2013. Samaan, the owner of a pawn business in Wilmore, Ky is charged with receiving stolen property.
Pictured L to R: Erick Reynolds and Shaylin Floyd