Program urges people to 'Be a 'HERO, be a designated driver'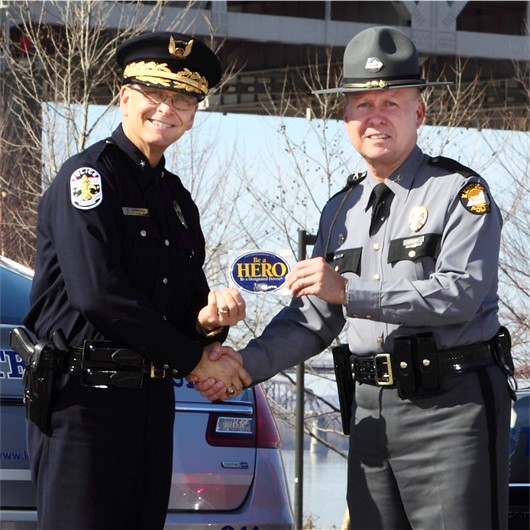 Louisville Metro Police Dept. (LMPD) Chief Steve Conrad (left) and Kentucky State Police (KSP) Commissioner Rodney Brewer (right) display a new HERO bumper sticker that represents a partnership between the agencies designed to save lives by promoting the use of designated drivers. The sticker will appear on 900 LMPD vehicles and 1,600 KSP vehicles.
The HERO Campaign's mission is to end drunk-driving fatalities, injuries and accidents nationwide by promoting designated driving and reminding the public to drive sober. It was established by the family of U.S. Navy Ensign John Elliott of Atlantic County, N.J., who was killed in 2000 in a head-on collision with a drunken driver.
The campaign works in cooperation with schools, businesses, law enforcement agencies and other community-based organizations to promote the use of safe and sober designated drivers to prevent drunken driving tragedies.
Businesses, including bars, taverns and restaurants, are invited to display posters and window decals identifying the locations as HERO sites and are asked to serve free soft drinks to sober designated drivers.
Law enforcement agencies can participate by displaying HERO Campaign decals on their cars and schools are being encouraged to start HERO Campaign chapters and integrate the campaign into their DUI prevention and educational programs.
For more information on the HERO Campaign, visit http://kentuckyheroes.org/