(FRANKFORT, Ky.) - The Bureau of Alcohol, Tobacco and Firearms (ATF) presented certificates of appreciation to four members of the Kentucky State Police Hazardous Devices Unit at KSP headquarters in Frankfort on April 29.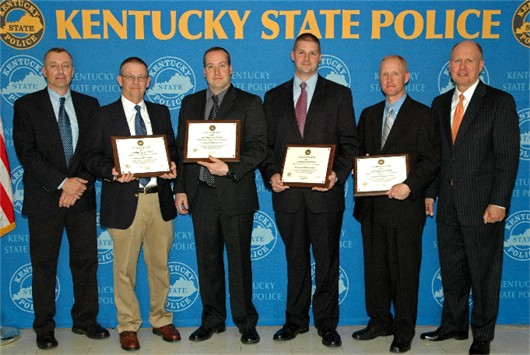 Shown left to right are ATF Special Agent Rich Putnam, KSP Hazardous Devices Supervisor Jackey Edwards, Hazardous Devices Investigator James Adkins, Hazardous Devices Investigator Hilton Hastings, Hazardous Devices Investigator Channce Dawdy and KSP Commissioner Rodney Brewer.
ATF recognized the group for their role during a joint investigation of an explosion that destroyed a vehicle and injured its occupant in Ashland, Ky. on July 28, 2011.
The investigation led to the conviction of the victim's husband on charges of attempted murder and use of a weapon of mass destruction resulting in a 40 year prison sentence.