Eddie Price, Kentucky author of Widder's Landing, attended the Bicentennial and War of 1812 monument dedication at Fort Meigs in Perrysburg, Ohio on May 4, 2013.
The Kentucky Soldiers Memorial Dedication included a ceremonial unveiling of the new monument that marks one of the bleakest moments in the state's history.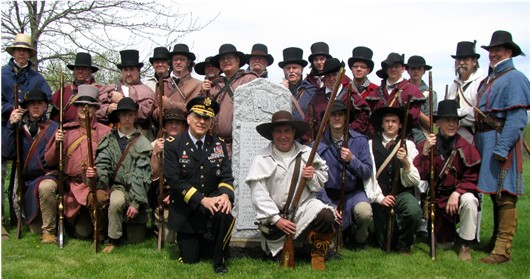 Eddie Price is pictured with the 2nd Regiment Kentucky Volunteer Militia at the newly unveiled Kentucky Soldiers monument at Fort Meigs, Perrysburg, Ohio, May 4, 2012. Kneeling at Price's right is Father Patrick Dolan, Brigadier General, Kentucky National Guard. Dolan gave the invocation at the ceremony. The two militia commanders are (right standing) Thad Stern and (left standing) Mike Judson.
A detachment of troops under the command of William Dudley crossed the Maumee River to attack British gun batteries that were bombarding Fort Meigs. They stormed the batteries and temporarily disabled the cannons, but Dudley lost control of the Kentucky force that pursued Tecumseh's Indians who led them deeper into the forest. While the British and Canadian forces recaptured the gun batteries, killing many Kentuckians and forcing the rest to surrender, the disorganized Kentuckians in the forest were almost wiped out in confused, hand-to-hand fighting. Of Dudley's 866 officers and men, only 150 escaped back into Fort Meigs. This event became known as "Dudley's Massacre" or "Dudley's Defeat," The total American loss in the siege came to 160 killed, 190 wounded, 100 wounded prisoners, 530 other prisoners and 6 missing: 986 in all.
The event is recaptured in Price's historical novel Widder's Landing, published by Acclaim Press and now in it's 3rd printing.
See related article: