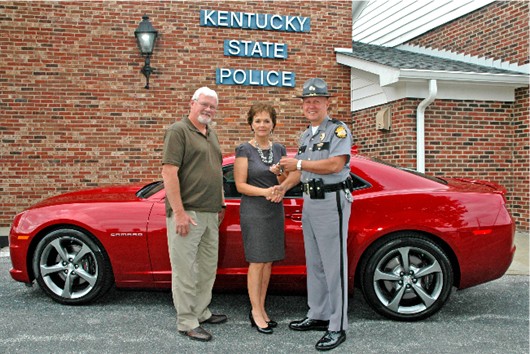 Debbie Tinsley (center) and her husband Larry (left), of Glasgow, Ky., picked up the keys to her new 2013 Chevrolet Camaro 1SS Coupe from Kentucky State Police Commissioner Rodney Brewer (right) at KSP headquarters in Frankfort on Sept. 30.
Tinsley bought a $10 ticket for the 2013 Trooper Island raffle and her name was picked at a drawing held on Aug. 25 at the Kentucky State Fair.
The raffle is the major fundraising event for Trooper Island, a free summer camp for underprivileged boys and girls age 10-12 operated by the Kentucky State Police on Dale Hollow Lake in Clinton County. It is financed entirely by donations, no public funds are used.
Each year, the camp hosts approximately 700 children, providing good food, fresh air, recreation, guidance and structured, esteem-building activities designed to build good citizenship and positive relationships with law enforcement officers.
Visit www.kentuckystatepolice.org<http://www.kentuckystatepolice.org> for more information. (Charitable gaming license #0000633.)