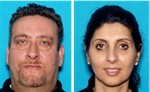 Attorney General Jack Conway on Friday announced the indictment of a husband and wife facing charges involving welfare fraud.
A Franklin County grand jury indicted 45-year-old Ala Samaan and 41-year-old Taghreed Samaan, of Nicholasville, with one count of scheming to defraud an assistance program, for obtaining more than $10,000 in Kentucky Medicaid benefits by fraud.
Ala Samaan is an officer in eight different corporations in Kentucky, including those that do business as Clucker's, a convenience store and gas station in Wilmore, and J.D. Legends, an entertainment complex with locations in Nicholasville and Franklin, Ohio. The indictment stems from investigations conducted by the OAG Department of Criminal Investigations. The case is being prosecuted by General Conway's Office of Special Prosecutions.
Scheming to defraud an assistance program is a Class C felony, carrying a penalty of five to 10 years in prison. If convicted, the two could also face a fine of up to $60,000, in addition to having to repay the Kentucky Medicaid program.
A defendant is presumed innocent unless and until proven guilty.
Pictured L to R are the accused: Ala Samaan and Taghreed Samaan