FRANKFORT, Ky.) –Kentucky State Police Sgt. Jackie Pickrell was honored with the Kentucky Women's Law Enforcement Network (KWLEN) 2013 Member of the Year award during the group's annual training conference held November 20-22, 2013.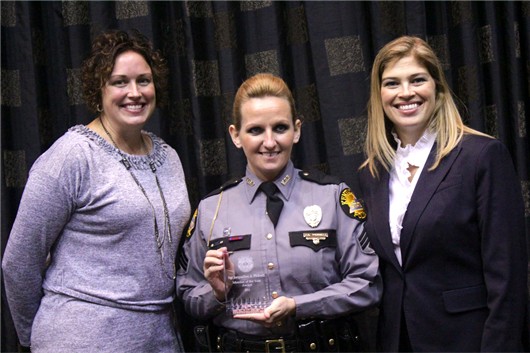 Pictured from L. to R.: KWLEN President Jennifer Colemire, KSP Sgt. Jackie Pickrell, and Warren County District Attorney Amy Milliken.
KWLEN is an organization of sworn law enforcement officers from local, state and federal agencies, along with civilian personnel from within the criminal justice system. This diverse group provides training, networking and mentoring to officers throughout Kentucky.
Every year KWLEN recognizes one individual who has provided extraordinary support to the organization. This support includes efforts such as: advancing public awareness of KWLEN, leading and developing initiatives, recruitment of new members and establishing new services.
Sgt. Pickrell, a 10-year member of KWLEN, was recognized for consistently demonstrating initiative and mentoring within the organization. Pickrell has served as Second Vice President of the organization for the past two years.
KWLEN President Jennifer Colemire says the award was well deserved.
"Sgt. Pickrell has made a huge impact within our organization," says Colemire. "Without her support and endless supply of caring for our membership, we would not have the network we currently do."
Pickrell says she was honored to receive the award from an organization she is so invested in.
"It is a tremendous honor to be recognized by my peers," says Pickrell. "I enjoy being part of KWLEN and I respect what the organization stands for."
For more information about how you can become involved in KWLEN call them at (859) 474-0210.