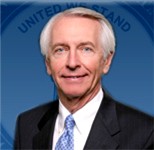 New program part of development strategy through S.O.A.R.; creates $2.6 million loan pool
FRANKFORT, Ky. – Governor Steve Beshear has announced a grant to support and spur economic growth in southeastern Kentucky. The funds will allow entrepreneurs and startup companies in the region to qualify for $1.3 million in small business loans through the U.S. Department of the Treasury.
The state is awarding more than $400,000 to Kentucky Highlands Investment Corp. (KHIC), which provides loans, equity investments and other assistance to southeastern Kentucky businesses.
"Improving southeastern Kentucky's economic landscape is vital to the success of the entire state," said Gov. Beshear. "This region is in dire need of new businesses and more jobs, and these funds will go a long way toward encouraging innovation and putting eastern Kentuckians back to work. I'm proud to partner with local, state and federal officials to offer this support."
The loan pool is a component of an aggressive initiative in eastern Kentucky created by Gov. Beshear, U.S. Congressman Hal Rogers and other local and state leaders called "S.O.A.R.: Shaping Our Appalachian Region.
"S.O.A.R. will help the region develop, and more importantly, put into action new locally oriented strategies to attack challenges," Gov. Beshear said. "This loan program is just one of our many commitments to this region of the Commonwealth."
Kentucky offered the grant to allow KHIC to take advantage of a $1.3 million award from the Community Development Financial Institution within the U.S. Department of the Treasury. KHIC had to match the funds and raised $900,000 in local support. The state kicked in the additional $400,000 to meet the federal matching requirements.
"KHIC is very pleased with Kentucky's matching grant that will be used to leverage funds awarded through the U.S Treasury's CDFI Program," said Ray Moncrief, KHIC's executive vice president and chief operating officer. "The Cabinet for Economic Development has worked tirelessly to provide this important grant that will be used to finance small businesses in southeastern Kentucky and the newly announced S.O.A.R. area of the Commonwealth."
KHIC was formed in 1968 to stimulate growth and create employment opportunities in a nine-county region of southeastern Kentucky. The company now supports 22 counties including Bell, Clay, Clinton, Cumberland, Estill, Harlan, Jackson, Knox, Laurel, Lee, Leslie, Letcher, Lincoln, Madison, McCreary, Owsley, Perry, Pulaski, Rockcastle, Russell, Wayne and Whitley. In addition to offering small business loans, KHIC also provides technical assistance and training to local entrepreneurs.
Learn more about Kentucky Highlands Investment Corp. at www.khic.org.
Information on Kentucky's economic development efforts and programs is available at www.ThinkKentucky.com. Fans of the Cabinet for Economic Development can also join the discussion on Facebook or follow on Twitter. Watch the Cabinet's "This is My Kentucky" video on YouTube.