FRANKFORT, Ky. — A 15-year-old sophomore student from Pike County is Kentucky's 2014 Poetry Out Loud state champion and will represent the Commonwealth at the national finals in April.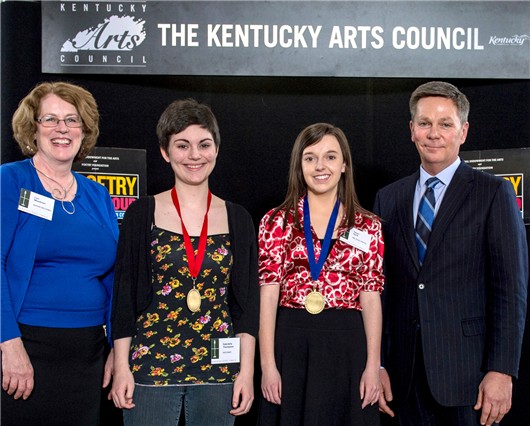 Fourteen students competed in the Kentucky Poetry Out Loud Finals Thursday in Frankfort. Pictured, from left, are: Kentucky Arts Council Executive Director Lori Meadows; Poetry Out Loud first runner-up, Gabby Thompson, Boyd County High School; state champion,Taryn Syck, Pike County Central High School; and Tourism, Arts and Heritage Cabinet Deputy Secretary Lindy Casebier
Taryn Syck, the school champion from Pike County Central High School, emerged as the winner among 14 high schools students who competed for the Poetry Out Loud state title Thursday at the Capital Plaza Hotel. The program, administered by the Kentucky Arts Council in partnership with the National Endowment for the Arts and the Poetry Foundation, encourages high school students to learn about great poetry through memorization, performance and competition.
"I want to congratulate Taryn and all of our school champions who won their school competitions and the opportunity to represent their schools and communities at the state finals," said Lori Meadows, arts council executive director. "The Poetry Out Loud competition is arts education in action. The Kentucky schools and teachers who participated are commended for broadening their students' education through the arts."
All 14 competitors recited two poems each, from memory. The group was then narrowed to five finalists. Besides Syck, finalists were Titus Carter, Allen County Scottsville High School; Jodi Hooper, McCracken County High School; Celeste Shearer, Hart County High School; and Gabrielle Thompson, Boyd County High School.
Thompson, a junior, was the first runner-up. She will receive a $100 cash prize and $200 for her school to purchase library books.
As winner of the state finals, Syck will receive $200 and an all-expenses-paid trip, with her chaperone, to Washington, D.C., to compete with other state champions in the national finals, April 29-30. Pike County Central High School will also receive $500 for the purchase of poetry books for its library. The Poetry Out Loud National Recitation Contest will award $50,000 in scholarships and school prizes to winners and top finalists.
Judges for the competition were Kentucky Poet Laureate Frank X Walker; Maureen Morehead, a former Kentucky poet laureate; and Kentucky writers Normandi Ellis and Leatha Kendrick.
The National Endowment for the Arts was established by Congress in 1965 as an independent agency of the federal government. The NEA extends its work through partnerships with state arts agencies, local leaders, other federal agencies, and the philanthropic sector.
The Kentucky Arts Council, the state arts agency, creates opportunities for Kentuckians to value, participate in and benefit from the arts. Kentucky Arts Council funding is provided by the Kentucky General Assembly and the National Endowment for the Arts.