Last week brought a flurry of legislative activity in both the House and Senate. With only 11 scheduled days remaining before the two-week veto recess, the legislative process will only speed up from here. Below are highlights of the past week along with information on critical business legislation. Please get involved and make your voice heard – it truly makes a difference.
The House passed the state budget last week after a three and a half hour contentious debate that focused on Kentucky's implementation of the Affordable Care Act and the level of debt in the budget. It now goes to the Senate with only two full weeks to approve it and then hammer out differences between the House and Senate versions. Find detailed summaries of Gov. Beshear's proposal and the House budget on our blog.
The issue of greatest concern for the business community came Wednesday, when Senate Majority Leadership moved a controversial and costly workers' compensation mandate from the budget committee to the more favorable Banking and Insurance Committee. SB 137 (Carroll) will drive up workers' compensation costs on all businesses, non-profits, local governments and school districts by doubling attorneys' fees, creating an incentive for attorneys to reopen workers' compensation cases and extending the age for benefits from 67 to 70.  The Chamber quickly reacted with a strong letter of objection and has been rallying other business groups to join us in our opposition. If you can spare just two minutes this week to save your company money, leave a brief message for your Senator at 1-800-372-7181 and tell them to OPPOSE SENATE BILL 137. Visit our workers' comp action alert to send an email to your Senator.
Despite Kentucky being a magnet for frivolous lawsuits by out-of-state personal injury attorneys, the House has shown little willingness to act. Health Chairman Tom Burch has failed to bring SB 119 for a vote in the House Health and Welfare Committee. We are redoubling our efforts at the Chamber and will be launching a public education campaign to expose the "sue and settle" attorneys who are attacking medical providers in our state and giving reputable attorneys a bad name. Help us stop the "sue and settle" lawsuit industry in Kentucky by taking action today.
Thank you to all who responded last week to oppose the Senate effort to scrap Kentucky's academic standards. Your voice was heard by the Senate. Chamber president Dave Adkisson testified in opposition and no vote was taken. Senate Education Chairman Mike Wilson noted in the press there is unlikely to be a vote taken.
Thursday, Chamber president Dave Adkisson joined other business and economic development leaders in a hearing on right-to-work legislation. The legislation did not fare well in an unfriendly committee to the concept; however, the Chamber appreciates Rep. Hoover for bringing this important chamber-supported issue forward for discussion.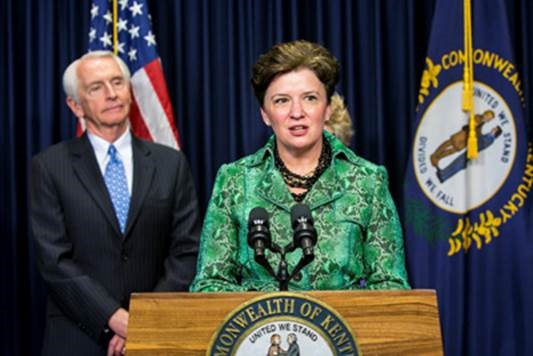 Also on Thursday, Chamber Chairwoman Elizabeth McCoy joined our public affairs team in Frankfort. In addition to reiterating the Chamber's support for expanded gaming at the Kentucky Wins Rally, Elizabeth McCoy joined Gov. Beshear to discuss the importance of early childhood education. The Chamber staff sincerely appreciates her willingness to play an active role in helping us highlight important issues.
Additional Legislative Action on Chamber-supported Bills
Telecomm Reform Bill (SB 99) cleared the House Economic Development Committee and now moves to the full House for consideration.
Contractor Notification Legislation (HB 467) passed the House and now moves to the Senate for action.
Juvenile Justice Reform (SB 200) passed the Senate Judiciary Committee and awaits action by the full Senate.
Our key bill list below is color-coded to note the Chamber's support in green oropposition in red to each measure.

Education & Workforce Development
SB 211 - Targeted Charter Schools Read More
HB 85 - Charter Schools Read More
SB 168 - Tenure Reform Read More
SB 169 - Tribunal Reform Read More
HB 154 - Financial Accountability Read More
HB 261 - University Bonding Authority Read More
SB 89 - Public School Standards Read More
HB 332 - Early Childhood Education Read More
HB 87 - Linking Degrees to Earnings Read More
SB 224 - Repeal Common Core Standards Read More
HB 215 - Repeal Common Core Standards Read More

Business Competitiveness
HB 407 - Public-Private Partnerships Read More
SB 33, HB 67 & HB 584 - Expanded Gaming Legislation Read More
SB 99 - Telecommunications Modernization Read More
SB 63, HB 504 & 557 - Workers' Comp Special Fund Read More
HB 349 - Workers' Comp Reporting Simplification Read More
HB 467 - Contractor Notification Read More
HB 301 - Small Business Tax Credits Read More
HB 308 - Attracting Data Centers Read More
HB 232 - Data Breach Notification Read More
HB 507, SB 136 & 137 - Workers' Comp Cost Drivers Read More
HB 96 - Public Construction Cost Driver Read More
Taxes
HB 37 - Angel Investor Tax Credit Read More
HB 529 - Bourbon Barrel Tax Credit Read More
HB 345 - Taxpayer Fairness Read More
HB 346 - Tax Simplification Read More
SB 135 & HB 399 - Local Option Sales Tax Read More
HB 136 - LLET Tax Reform Read More
HB 493 - Tourism Tax Incentives Read More
HB 516 - Bad Debt Credits Read More
HB 559 - Small Business Tax Relief Read More
HB 220 - Tax Hikes Read More
HB 438 - Tax Bounties Read More

Legal Issues
SB 119 - Medical Review Panels Read More
SB 78 - Commonsense Property Liability Read More
SB 189 - Legal Contract Sunshine Law Read More
SB 214 - Judgment Interest Reform Read More
HB 369 - Lowered Statute of Limitations Read More
HB 304 - Good Samaritan protections Read More
HB 148 - Increased Employer Litigation Read More
HB 335 - False Claims Act Read More
Health & Wellness
HB 173 & SB 117 - Smoke-free Kentucky Read More
SB 5 - Combatting Heroin Abuse Read More
HB 505 - Kentucky-based Exchange Read More
SB 73 - Pharmacy Benefit Managers Read More

Labor Issues
SB 81 - Clear Contractor Guidelines Read More
HB 419 - Prevailing Wage Savings Read More
HB 496 - Kentucky Right-to-Work Law Read More
HB 1 & SB 215 - Raising the Minimum Wage Read More
HB 420 - Forced Union Apprenticeship Read More

Government Reform
HB 389 - Public Pension Audit Requirements Read More
SB 142 - Public Pension Reforms Read More
SB 83 - Improved Alcohol Laws Read More
HB 5 - Cyber Security Read More
SB 200 - Juvenile Justice Reform Read More

Energy & Environment
SB 67 & HB 52 - Nuclear Power Read More
HB 388 - Kentucky Environmental Standards Read More
SB 35 - Politicizing the Public Service Commission Read More
HB 31 - Limiting Transport of Energy Read More
HB 195 - Renewable Energy Mandate Read More
HB 241 - Increased Energy Costs Read More
HB 288 - Coal Mining Restrictions Read More

For a complete list of bills and their current status, download our complete BillTrack (PDF).