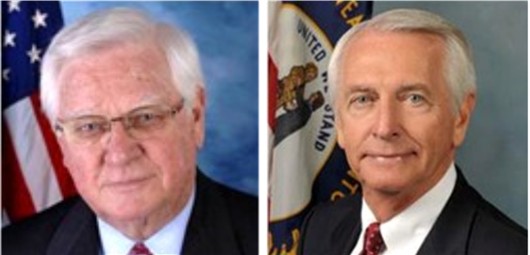 Congressman Harold Rogers and Governor Steve Beshear are joining leaders from Southern and Eastern Kentucky to discuss critical issues facing the Appalachian region at the 27th annual East Kentucky Leadership Conference.
The two-day statewide conference will be held April 24-25 at The Center for Rural Development in Somerset.  Interactive sessions will provide opportunities for participants to explore in-depth topics such as work ready communities, education, broadband access, youth engagement, and entrepreneurship.  The conference theme, "Transforming Crisis into Opportunity," will build upon the Shaping Our Appalachian Region (SOAR) initiative currently under way, and offers participants a unique opportunity to discover and develop creative solutions to problems in the region.
"The SOAR Initiative: Shaping Our Appalachian Region has energized people across the region, and the East Kentucky Leadership Conference provides another partnership with leaders who are equipped with the talent and resources to develop a strategic plan for our future," said Rogers, a guest speaker at the conference. "Together, we have made great strides in Eastern Kentucky despite the many obstacles we have faced for generations, and hope is abundant for our families and businesses. With new opportunities on the horizon, it's time for us to dig deep and think outside the box."
Rogers and David C. Wilhelm, chief strategy officer for Hecate Energy, a leading American-based developer of renewable energy projects, will speak on Friday at a luncheon immediately following the final concurrent session of the conference.  Beshear will be the keynote speaker on Thursday night prior to an awards dinner and the East Kentucky Leadership Foundation Awards Showcase hosted by WYMT-TV general manager Neil Middleton.
"Over the past few months, we've announced many ambitious projects to spur development in Eastern Kentucky— including the Mountain Parkway expansion, increasing broadband access and receiving a Promise Zone designation," Beshear said.  "Through SOAR and events like the East Kentucky Leadership Conference, we are determined to work together and keep the conversation going on how to implement these projects and create new goals to improve the education, health, work-readiness and infrastructure of Appalachia.  I look forward to the hard work ahead and the limitless possibilities for one of Kentucky's most-cherished regions."
Established in 1987, the East Kentucky Leadership Foundation brings together leaders and community members from all walks of life and throughout Eastern Kentucky for a two-day conference in April to discuss and share ideas for solutions to the problems which have kept the region from reaching its fullest potential.
"Through networking, discussion and sharing of time, we can create a unified front to address the problems facing Eastern Kentucky," said Hilda Legg, vice chair of the East Kentucky Leadership Foundation and program chair. "This conference is not a conference for a few speakers and listeners. The goal is to make everyone a speaker, listener, and most importantly, an effective leader."
The highlight of the conference will be an awards showcase on Thursday night where the East Kentucky Leadership Foundation will recognize individuals for their valuable contributions to the region. Awards will be presented to a public individual; private individual; culture/arts; organization; media; and the Tony Turner Award given to an individual, group, or organization that has demonstrated major contributions to the betterment of the region.
"The East Kentucky Leadership Conference provides a unique opportunity for leaders in Southern and Eastern Kentucky and across the state to come together and discuss issues important to the region," said Lonnie Lawson, president and CEO of The Center for Rural Development and conference chair. "By working together, we can develop the next generation of leaders and create sustainable growth strategies.  The Center for Rural Development is pleased to be a partner working with so many others across the region to improve the quality of life for individuals and families."
To register for the conference, visit www.eklf.org or call The Center for Rural Development at 606-677-6000. Early registration is $30 per person, if paid on or before April 18, or $35 per person after that date. This includes all meals served at the conference.
The conference is presented by the East Kentucky Leadership Foundation and in partnership with conference sponsors The Center for Rural Development, Forcht Group of Kentucky, Somerset Community College, Pulaski County Government, the City of Somerset, University of Pikeville, Coventry Cares of Kentucky, Eastern Kentucky University, Walmart, and Campbellsville University.
Established in 1996 through the vision of U.S. Congressman Harold "Hal" Rogers, (KY-05), and other leaders, The Center for Rural Development is a nonprofit organization fueled by a mission to provide leadership that stimulates innovative and sustainable economic development solutions and a better way of life in Southern and Eastern Kentucky. In its 45-county primary service region, The Center provides innovative programs in leadership, public safety, technology, and arts and culture. The Center is committed to constantly expanding its capabilities in order to deliver a range of key services throughout Kentucky and the nation.