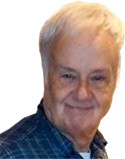 JUST ONE TIRED REDNECK'S OPINION
By Cletus Maricle
There is a logical explanation for the mysterious sound that occurred last Saturday and Sunday from Buffalo, New York, to Aberdeen in the United Kingdom. It was not caused by any super-secret spy plane. What happened was this.
There was a simultaneous and spontaneous expulsion of air by all human bodies in Southern United States caused by the consumption of millions of pounds of sweet taters on Thanksgiving creating a front that rushed north due to prevailing winds to the Buffalo area where it collided with the atmospheric conditions in that section of the country.
Every redneck knows what happens when two fronts collide. Duh?
In fact Professors Wagersdorf and Hickstein have developed a formula to explain the mystery.
JUST ONE TIRED REDNECK'S OPINION.