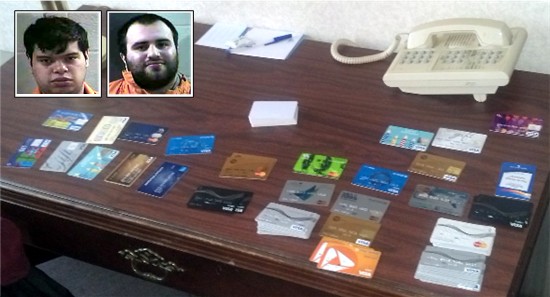 Laurel County, Ky. - Sheriff John Root is reporting that Laurel Sheriff's Detective Jason Back, Detective James Sizemore along with Deputy Larry Parrott and Deputy Brandon Broughton, and Sgt. Robbie Grimes arrested two individuals on Monday afternoon February 10, 2015 at approximately 5:15 P.M.
The arrest occurred in southern Laurel County after a motel there requested deputies to respond to a complaint of suspected marijuana odors coming from a room.
When deputies arrived at the scene and conducted an investigation on the room in question, they discovered a small amount of marijuana and encountered two uncooperative male subjects in the room.
In plain view deputies observed a large amount of credit cards and debit cards resembling Visa and MasterCard along with blank cards, and a machine to scan cards and alter their contents, and a computer to use in conjunction with the card writer.
79 of the cards had one of the individuals name on them, and 55 had another individuals name on the them. Numerous blank cards with nothing on them were also found.
Both individuals advised deputies that they were from Georgia, however, deputies are unsure about their identities due to the equipment they found in the room.
Only one individual would identify himself – his identification stated he was from Oklahoma. The other individual who remained uncooperative during the investigation was in possession of a Georgia driver's license with his picture on it, but deputies were unable to verify that it was a valid Georgia drivers license.
Deputies located a rental vehicle in the parking lot that the two subjects had allegedly driven. Deputies arrested a subject that identified himself as Omar Said age 20 address reported as Atlanta, Georgia and another male subject who refused to give his name and he is a listed on a citation as "John Doe" possible age 25 address possibly Atlanta,Georgia.
Both subjects were charged with criminal possession of a forged instrument – first-degree and possession of marijuana.
Both subjects were lodged in the Laurel County Detention Center.
As deputies continued their investigation, they found receipts where the two subjects had apparently went to a local business nearby obtaining money grams for a total of $1,000 and sending them to an offshore account in the Philippines.
It is believed that the two subjects were placing stolen credit/debit card information on cards with their names on them and taking the cards to area businesses and obtaining money grams.
The investigation is continuing by the Laurel County Sheriff's office.
Photos of the accused courtesy of the Laurel County Detention Center.
Photos of seized forged credit/debit and blank cards courtesy of Deputy Brandon Broughton.