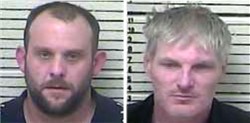 Manchester, Ky. - MPD is reporting that on Friday, February 13, 2015 Manchester Police Department Asst. Chief Patrick Robinson conducted a traffic stop on a 1998 red Jeep Cherokee on River Street.
During the investigation Asst. Chief Robinson located items used to manufacture methamphetamine and a small baggie of methamphetamine in a backpack belonging to the driver Jason Cottongim, of Manchester.
While Cottongim was being searched at the Clay County Detention Center, Deputy Jailers located drug paraphernalia and a large bag of methamphetamine on his person.
Cottongim was charged with operating on a suspended or revoked operators license, possession of a controlled substance (methamphetamine) 2nd offense, promoting contraband, and drug paraphernalia.
The passenger in the vehicle, Darrell Combs, of Manchester was found to have drug paraphernalia and determined to be under the influence.
Both subjects were lodged in the Clay County Detention Center.
Photos courtesy of the Clay County Detention Center.
Source: Manchester Police Department