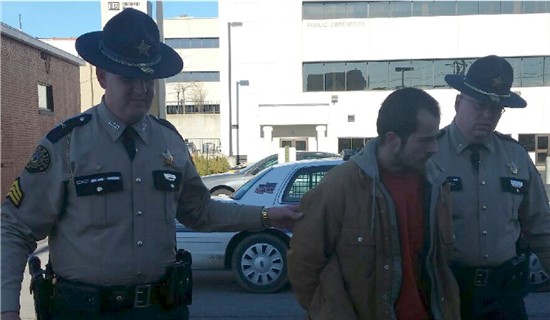 Laurel County, Ky. - Sheriff John Root is reporting that Laurel Sheriff's Detective Charlie Loomis along with Sgt. Robbie Grimes and Lieut. Greg Poynter arrested an East Bernstadt man on Friday afternoon, February 13, 2015 at approximately 4 P.M.
Arrested was Kenneth Maggard age 31 of Hensley Road, East Bernstadt, KY.
The arrest was the result of information developed by Sheriff's deputies regarding the burglary of five large mailboxes inside the post office at Pittsburg on February 11, 2015 at 10 P.M.
The Sheriff's office posted a picture on the Sheriff's Department Facebook page of the suspect and the suspect vehicle taken off a surveillance camera in the area of the post office and in less than two hours a phoned in tip was received and information was developed and this suspect arrested.
The suspect told investigators that he pried open five large mailboxes with a screwdriver.
Deputies recovered all items taken in the burglary including health insurance books, a license plate and a Valentine gift.
Kenneth Maggard was charged with theft of mail matter and was lodged in the Laurel County Detention Center.
Pictured is Kenneth Maggard in the center being escorted into the Laurel County Sheriff's office by Sgt. Robbie Grimes on the left and Lieut. Poynter on the right.