Laurel County, Ky. - Sheriff John Root is reporting that all Laurel County roads including I-75, U.S. 25, Ky. 80, & Ky. 30 are still very slick and hazardous.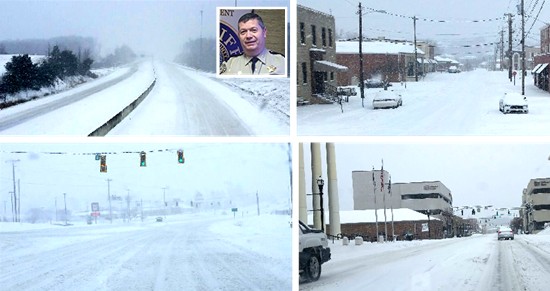 1:00 P.M. on Monday afternoon February 16, 2015
Top left - I 75 (inset) Sheriff Root, Top right - In front of Sheriff's office,
Lower left - 192 By Pass & Lower right Downtown London, Ky
All secondary roads are extremely slick and hazardous. Salt trucks are out working on the roads ,however , heavy snow fall is keeping roads very slick!
As much as 5-6 inches has already fallen, and many secondary roads are impassable. Here's the latest weather report from NOAA at the Jackson Weather Service:
Winter Storm Warning
HEAVY SNOWFALL EXPECTED THROUGH THIS EVENING...
ARCTIC AIR ENTRENCHED OVER THE REGION WILL SET THE STAGE FOR SNOW TO DEVELOP TODAY AS A LOW PRESSURE SYSTEM TRACKS THROUGH THE SOUTHEAST UNITED STATES. HEAVY SNOWFALL IS EXPECTED WITH SNOWFALL RATES EXCEEDING AN INCH PER HOUR AT TIMES FROM LATE THIS MORNING THROUGH EARLY THIS EVENING.
WINTER STORM WARNING REMAINS IN EFFECT UNTIL MIDNIGHT EST TONIGHT...
* WIDESPREAD SNOW WILL OCCUR THROUGH EARLY THIS EVENING. SNOWFALL WILL BE HEAVY AT TIMES...WITH SNOWFALL RATES OF 1 TO 2 INCHES OR MORE PER HOUR. THE SNOW WILL TAPER OFF BY LATE THIS EVENING. THE SNOW COULD MIX WITH SLEET NEAR THE LAKE CUMBERLAND REGION.
* STORM TOTAL SNOW ACCUMULATIONS OF 11 TO 18 INCHES ARE EXPECTED.
* ROADS WILL BECOME SNOW COVERED AND TRAVEL MAY BECOME VERY DIFFICULT IF NOT IMPOSSIBLE. THE SNOW MAY ACCUMULATE HEAVILY ON TREES. THIS MAY BRING DOWN TREES OR TREE BRANCHES AND LEAD TO POWER OUTAGES ESPECIALLY IN LOCATIONS CLOSER TO THE LAKE CUMBERLAND REGION. TRAVEL ON RURAL OR SECONDARY ROADS MAY BE DIFFICULT WELL INTO TUESDAY. IF POSSIBLE...POSTPONE TRAVEL.
PRECAUTIONARY/PREPAREDNESS ACTIONS...
A WINTER STORM WARNING FOR HEAVY SNOW MEANS SEVERE WINTER WEATHER CONDITIONS ARE EXPECTED OR OCCURRING. SIGNIFICANT AMOUNTS OF SNOW ARE FORECAST THAT WILL MAKE TRAVEL DANGEROUS. ONLY TRAVEL IN AN EMERGENCY. IF YOU MUST TRAVEL...KEEP AN EXTRA FLASHLIGHT... FOOD...AND WATER IN YOUR VEHICLE IN CASE OF AN EMERGENCY.
Sheriff Root reminds drivers-- Driving should be limited to emergencies only. Numerous traffic crashes have been occurring. Many roads are impassable. Deputies will be out in full force to assist on any traffic problems. Stay tuned for updates.
Pictured are roads in Laurel County at 1:00 P.M. on Monday afternoon February 16, 2015