Laurel County, Ky. - Sheriff John Root is reporting that all Laurel County Roads including I-75, U.S. 25, Ky 80, & Ky 30 continue to be slick and hazardous. All secondary roads are still extremely slick and hazardous. As much as 11 inches of snow fell, and many secondary roads are impassable. Salt trucks and snow plows are out and have plowed major roads, and many county roads, however, most roads are still snow covered.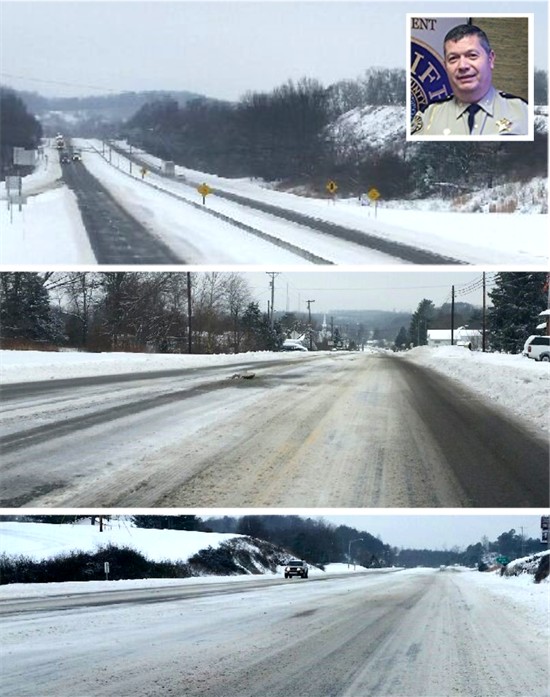 8:30 A.M. Tuesday morning February 17, 2015
Top - I 75 Exit 41 overpass (inset) Sheriff Root, Center - U.S. 25 north of London,
Bottom - KY 80 west of London - Photos by Sheriff's Deputy Gilbert Acciardo
The National Weather Service in Jackson, Ky is reporting the following weather information for Laurel County:
Special Weather Statement
TREACHEROUS ROAD CONDITIONS WILL CONTINUE THIS MORNING... ...MORE SNOW EXPECTED LATE TONIGHT INTO WEDNESDAY MORNING.
THE COMBINATION OF THE SNOW FROM MONDAY...AND TEMPERATURES FALLING INTO THE LOWER TEENS AND SINGLE DIGITS WILL KEEP MANY ROADS TREACHEROUS AND SNOW COVERED WELL INTO THE DAY TODAY.
SOME RURAL OR SECONDARY ROADS MAY REMAIN IMPASSABLE THIS MORNING. IF POSSIBLE, POSTPONE TRAVEL THROUGH AT LEAST MIDDAY TODAY.
ANOTHER POTENT WEATHER DISTURBANCE WILL PUSH ACROSS KENTUCKY LATE TONIGHT INTO WEDNESDAY...BRINGING ANOTHER ROUND OF SNOW TO EASTERN KENTUCKY.
A WIDESPREAD 1 TO 2 INCHES OF SNOW IS LIKELY. THIS MAY LEAD TO HAZARDOUS TRAVEL CONDITIONS AGAIN ON WEDNESDAY. IN ADDITION TO THE SNOW...TEMPERATURES WILL HOLD STEADY IN THE TEENS OR SLOWLY FALL INTO THE SINGLE DIGITS ABOVE ZERO DURING THE DAY WEDNESDAY.
THESE TEMPERATURES COMBINED WITH STEADY NORTHWEST WINDS AROUND 10 MPH WILL LEAD TO WIND CHILL VALUES BELOW ZERO WEDNESDAY AND WEDNESDAY NIGHT.
BITTERLY COLD WEATHER WILL CONTINUE THROUGH AT LEAST FRIDAY MORNING. LOWS THURSDAY NIGHT COULD FALL WELL BELOW ZERO.
THE COLD WEATHER WILL POSE A THREAT TO PEOPLE...OUTDOOR PETS AND LIVESTOCK. STEPS MAY ALSO BE NECESSARY TO KEEP PIPES FROM FREEZING...ESPECIALLY OLDER OR POORLY INSULATED HOUSES AND MOBILE HOMES.
Sheriff Root reminds drivers--
Driving should be limited to emergencies only. Numerous traffic crashes have occurred. Many vehicles, even front wheel drive, have lost traction in the deep snow and have gotten stuck.
Many roads are impassable.
Deputies will be out in full force to assist on any traffic problems. More updates later today.
Pictures attached taken by Sheriff's Deputy Gilbert Acciardo at 8:30 A.M. on 2-17-15.