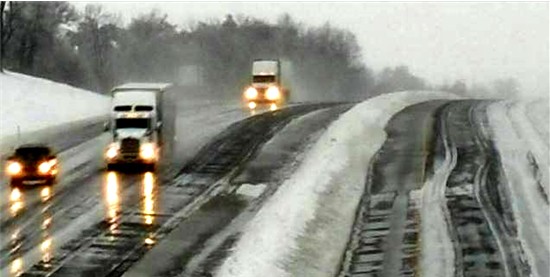 I-75 photo courtesy of Laurel County Sheriff's Office
Laurel County, Ky. - Sheriff John Root is reporting that more snow, along with sleet and freezing rain, has fallen in Laurel County overnight. Roadways are currently very icy. The National Weather Service in Jackson, Ky is reporting the following weather information for Laurel County:
WINTER STORM EXPECTED THROUGH TODAY...
.PRECIPITATION IS MOVING ACROSS KENTUCKY MAINLY IN THE FORM OF FREEZING RAIN...ALTHOUGH SOME SLEET AND WET SNOW ARE POSSIBLE. THIS IS CAUSING SIGNIFICANT ICING AND MAKING TRAVEL CONDITIONS TREACHEROUS. TRAVEL IS ONLY ADVISED IN CASE OF AN EMERGENCY THROUGH THIS MORNING. EXPECT THIS WINTRY MIX TO CONTINUE THROUGH THE MORNING...BEFORE FINALLY TRANSITIONING TO MAINLY RAIN THIS AFTERNOON ACROSS SOUTHEAST KENTUCKY. MUCH OF EASTERN KENTUCKY IS LIKELY TO SEE A HALF AN INCH OF ICE ACCUMULATION BY EARLY THIS AFTERNOON.
WINTER STORM WARNING REMAINS IN EFFECT UNTIL 1 PM EST THIS AFTERNOON...
* FREEZING RAIN...POSSIBLY MIXING WITH SLEET AT TIMES...WILL CONTINUE THROUGH EARLY THIS AFTERNOON BEFORE TRANSITIONING TO ALL RAIN. WHILE SOME LOCATIONS ARE CURRENTLY EXPERIENCING AIR TEMPERATURES ABOVE FREEZING...GROUND TEMPERATURES WILL LAG BEHIND THE AIR TEMPERATURES THROUGH THE MORNING...ALLOWING THIS MIX OF FREEZING RAIN AND SLEET TO ACCUMULATE ON MOST SURFACES...INCLUDING THE ROADWAYS.
Sheriff Root reminds citizens and motorists:
If there are citizens requiring assistance, or a warm place to stay, Fire Departments at Lily ,Bush, CampGround, Keavy, London , and Laurel County, along with the Rescue Squad will open their facilities.
In addition, West London Baptist Church is also opening their facility to assist. Laurel County's Emergency Operation Center will be open to coordinate assistance. Anyone in Laurel county can contact emergency services at: the Laurel County Sheriff's office at 606-864-6600, the Laurel County emergency operations center at 606-862-7904 or Laurel dispatch at 606-878-7000.
Travel during the storm period should be limited to emergencies only. Numerous accidents are occurring. All roadways in Laurel County have become slick and hazardous once again. Also, be aware that many roads in Laurel County are still slick and hazardous, and many remain impassable.
In addition, watch for standing high water in many locations. Deputies will be out in full force to assist on any traffic problems. Stay tuned for updates.
Pictured is I-75 photo courtesy of Laurel County Sheriff's Office.