By Brenda Kay
Clay County, Ky. - on Saturday afternoon February 21, 2015 steady rainfall and melting snow from rising temperatures had created a dramatic scene in what is normally a small, slow flowing & calm creek in Clay County.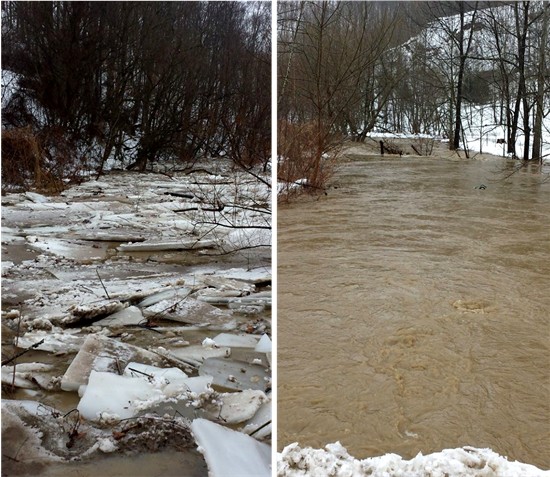 These two scenes are separated by a bridge that the photographer is standing on
Imagine yourself standing on a small bridge with water starting to splash on your boots as it starts to overflow the bridge and hundreds of tons of ice pushing against one side of the structure and the raging water flowing underneath the ice gushing out from beneath the other side.
That's exactly what former ClayCoNews editor Ron Curry did in order to capture these two amazing shots.
Pictured is Horse Creek and Curry is standing on the one lane bridge that crosses the creek on Curry Branch Road just off Highway 80 west of Manchester.
A short time later the ice laden water completely overflowed the bridge effectively shutting down the road until early Sunday morning.
"I knew the danger involved but the adrenaline was pumping and getting the shots from off the bridge itself was the only way to really let people that might be viewing my pictures later best share this once in a lifetime experience.
Unfortunately, I didn't have my video cam with me, hopefully someone else got video footage of this fantastic scene.
I've seen Horse Creek frozen over many times in the past as well as seeing the bridge covered with floodwater but never anything such as this." said Curry.
According to the National Weather Service:
More research is needed, but these "ice tides" are very rare in eastern Kentucky with only one other event found to have occurred in the historical record so far. That event occurred after the very cold winter of 1918 when an "ice tide" was observed on the Levisa Fork of the Big Sandy River at Pikeville.