A complex and very strange winter storm unfolded across eastern Kentucky overnight Friday February 20th into Saturday February 21st.
By the time all was said and done, east Kentucky had endured a wintry mix of snow, sleet and freezing rain, followed by heavy rainfall and flooding caused by ice jams, and several cases of roof collapses from the weight of the snow, ice and rain.
The precipitation began as snow and sleet, but quickly turned over to freezing rain during the early morning hours on Saturday as a thin layer of warm air moved over the area a couple thousand feet above the ground. Even though the temperatures warmed above freezing in most locations, freezing rain continued as ground temperatures remained below freezing into the day on Saturday. This created very hazardous driving conditions. In some areas, plow trucks equiped with chains were forced to pull off the road and wait for conditions to improve. The warm layer of air above the ground wasn't able to filter over Pine Mountain, and the bulk of the precipitation fell as a heavy wet snow east of the Pine Mountain ridge, including most of Bell County, Harlan County and parts of Letcher County. Here's a look at the final snow and ice accumulations from this event...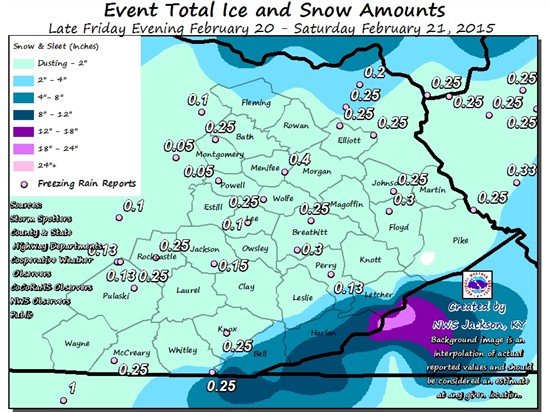 The heavy amounts of snow, ice and rain fell onto a snow pack that approached a foot in some areas due to the previous snow events earlier in the week. The added weight caused several roofs to collapse, especially in Bell and Harlan Counties, and scattered instances of roof collapses in other areas.
Below is a map of estimated rainfall amounts and liquid content of melted snow and ice which fell across east Kentucky during the event.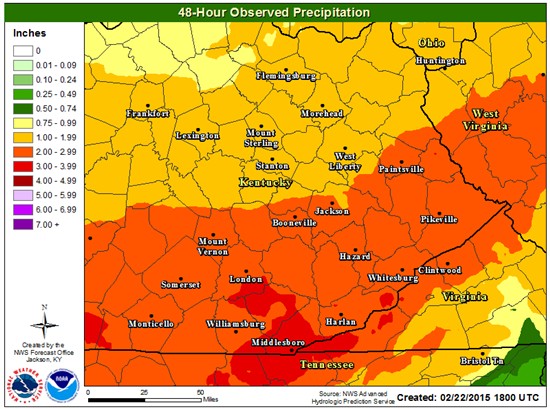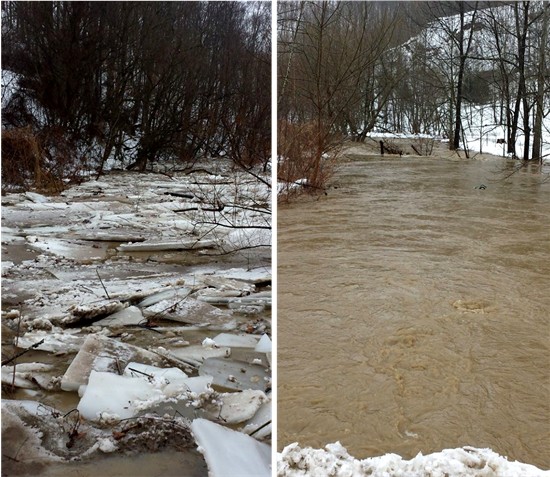 These two scenes are separated by a bridge that the photographer Ron Curry is standing on
This rain and melted snow flowing into ice clogged rivers and streams caused ice jams and flooding to occur in many areas. An "ice tide", or surge of ice filled water, then traveled down the rivers Saturday night into the day on Sunday.
More research is needed, but these "ice tides" are very rare in eastern Kentucky with only one other event found to have occurred in the historical record so far. That event occurred after the very cold winter of 1918 when an "ice tide" was observed on the Levisa Fork of the Big Sandy River at Pikeville.
Sources:
NWS Jackson, Kentucky & ClayCoNews