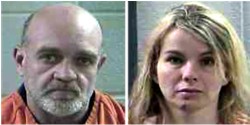 Laurel County, Ky. - Sheriff John Root is reporting that Deputy Larry Parrott along with Deputy Brandon Broughton, Constable Bobby Smith and Constable Chris Webb arrested two individuals after responding to a domestic violence complaint where allegedly an assault had occurred off KY 490, approximately 8 miles north of London on Tuesday night February 24, 2015 at approximately 8:12 P.M.
The arrest occurred after officers arrived at the scene and found that a male and female subject had apparently been fighting with each other and both got into an altercation leaving both subjects injured.
The male subject had locked himself in the house afterward and would not answer the door.
Officers made entry to the residence and found a male subject hiding in a closet in the residence.
Both subjects were arrested and are identified as Ronnie Davis age 48 and Kathy Cawood age 41 of Highway 490, East Bernstadt both charged with assault – fourth degree – domestic violence and both lodged in the Laurel County detention Center.
Photos attached are courtesy of the Laurel County detention Center.