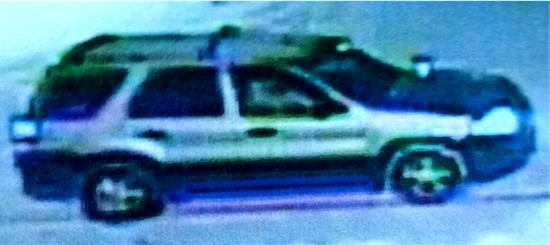 Surveillance photo of the suspect vehicle prior to the theft
Laurel County, Ky. - Sheriff John Root is reporting that Deputy Shawn Boroviak is investigating the theft of a utility trailer that occurred early Thursday morning February 26, 2015 at approximately 3:03 A.M.
Deputy Boroviak reports that a utility trailer was stolen from behind the Budget Car Rental business off West Cumberland Gap Parkway approximately 10 miles south of London.
Unknown thieves hooked to the trailer to pull it off and have not been located.
A surveillance photo shows the suspect vehicle prior to the theft. The vehicle apparently has a "friends of coal license tag" on it.
A photo of the suspect vehicle is attached to this news release.
Anyone with any information regarding this theft is asked to contact the Laurel County Sheriff's office at 606-864-6600 or 606-878-7000 and they can remain anonymous.
Investigation is continuing.