Laurel County, Ky. - Sheriff John Root is reporting that Laurel Sheriff's Detective Jason Back and Detective James Sizemore are attempting to locate a male subject wanted for the importation and distribution of crystal meth, and the use of an underage female for drug trafficking.
A $500 reward is being offered by London Laurel County Crime Stoppers in conjunction with the Laurel County Sheriff's Department for the the arrest and conviction of Robert A. McFadden (alias-Turtle) age 37 of London described as a white male, 5'10", 185 pounds, brown eyes and balding hair.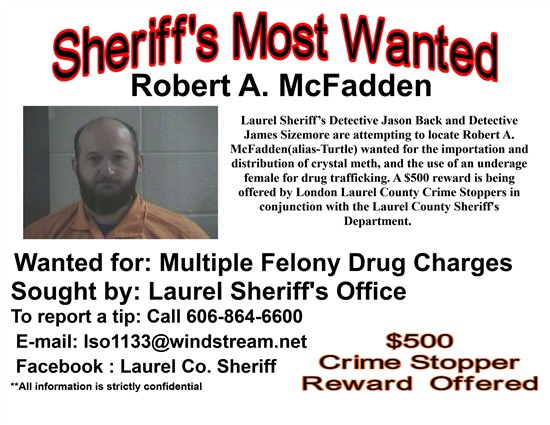 He has more than likely shaved his head and beard to avoid detection.
Anyone with any information on this subject is asked to contact the Laurel County Sheriff's office at 606-864-6600 or 606-878-7000 and can remain anonymous.