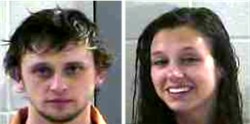 Laurel County, Ky. - Sheriff John Root is reporting that Deputy Andrew Lawson along with Sgt. Brett Reeves arrested two individuals on Sunday night March 1, 2015 at approximately 11:20 P.M. approximately 4 miles north of London on US 25.
The arrest occurred after deputies were dispatched to a vehicle off the roadway. When deputies arrived at the scene and conducted an investigation they determined that both the driver and passenger were under the influence and arrested both.
Arrested was the driver William C. Hurley age 23 of Mt. Zion Road, East Bernstadt, KY - Charged with operating a motor vehicle under the influence – first offense.
Also arrested was a passenger identified as: Christina Wolf age 20 of N. US Highway 25, London, KY - Charged with alcohol intoxication in a public place.
Both Individuals were lodged in the Laurel County Detention Center.
Photos attached are courtesy of the Laurel County Detention Center.