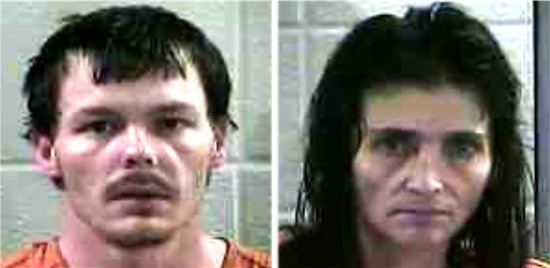 Laurel County, KY - Sheriff John Root is reporting that Deputy Shawn Boroviak along with Capt. Chuck Johnson arrested two individuals off Hopkins Cemetery Road, approximately 7 miles south of London on Thursday morning March 5, 2015 at approximately 9:02 A.M..
The arrests occurred after deputies were dispatched to a complaint that an elderly female subject had been awakened to the sound of breaking glass and found a male subject standing at the foot of her bed armed with a piece of pipe.
The male subject became startled and fled the victim's residence through the front door and attempted to flee the scene in a red colored Suzuki Forenza just as deputies were pulling up to the residence. Deputies noted that both occupants of the vehicle appeared to be under the influence.
Arrested was Finley Hall age 36 of Earl Howard Road, Corbin charged with robbery – first-degree; possession of burglary tools; operating a motor vehicle under the influence – second offense; and persistent felony offender I. Deputies determined that this subject had broken out the front window and raised the window to gain entry to the residence.
Also arrested was Elizabeth McNew age 48 of Braxton Lane, Lily, KY (allegedly the girlfriend of Finley Hall ) and was the other occupant in the getaway car charged with complicity to commit robbery first-degree and public intoxication – controlled substances.
Both subjects were lodged in the Laurel County Detention Center.
Photos attached are courtesy of Laurel County Detention Center.