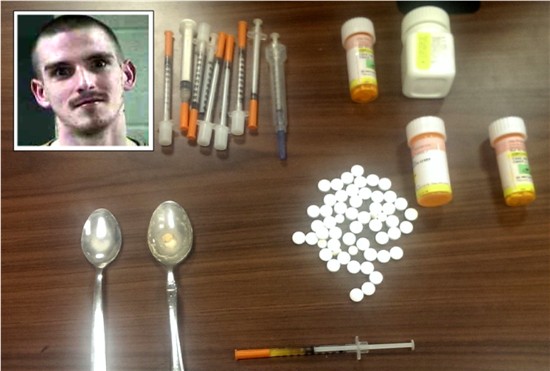 Laurel County, Ky. - Sheriff John Root is reporting that Deputy Larry Parrott along with Deputy Tommy Houston, Deputy Kyle Gray and Deputy Brandon Broughton arrested a Manchester man on Monday night March 9, 2015 at approximately 10:22 P.M..
Arrested was Jonathan Gray age 24 of Upper Rader Road, Manchester, KY.
The arrest occurred off Somerset Road after deputies were dispatched to a complaint that this subject was at his mother's home on Somerset Road and was threatening his parents with a loaded needle that contained Suboxone.
When deputies arrived at the scene they found this subject in a back bedroom in an apparent extremely intoxicated condition. This subject admitted to shooting up Suboxone, and deputies were able to locate the loaded needle that the subject had allegedly threatened his parents with.
In addition deputies located nueotin tablets, Suboxone tablets, Klonopin tablets, Fioraset tablets, Paxal tablets and 2 spoons that contained Suboxone residue--- none of these drugs were in their proper containers. Deputies also located nine syringes.
Jonathan Gray was charged with intoxication – controlled substances; prescription controlled substances not in proper container first offense; and possession of drug paraphernalia and was lodged in the Laurel County Detention Center.
Inset photo attached is courtesy of the Laurel County Detention Center.