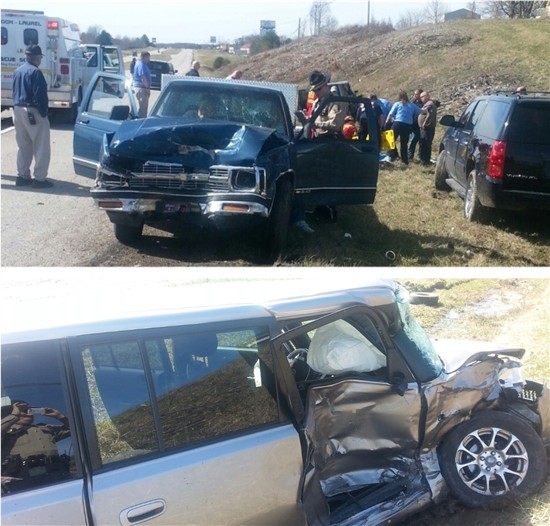 Laurel County, Ky. - Sheriff John Root is reporting that Deputy Kyle Gray along with Laurel Sheriff's office Accident Reconstructionist Capt. Chuck Johnson are investigating a two vehicle serious injury traffic crash which occurred on Russell Dyche Memorial Highway approximately 4 miles west of London on Monday afternoon March 16, 2015.
Preliminary information indicates there were two vehicles involved with three patients airlifted from the scene and one patient reportedly ejected from a vehicle there.
Assisting at the scene of the crash was Ambulance Inc. of Laurel County, Colony volunteer fire department, London Laurel rescue squad, and for Laurel Sheriff's Office:Lieut. Greg Poynter, Deputy Tommy Houston, Deputy Larry Parrott, Deputy Brandon Broughton, and Bailiff Cody Faulconer. More information will follow as it becomes available.
Photos attached provided by Deputy Kyle Gray.
Investigation is continuing.