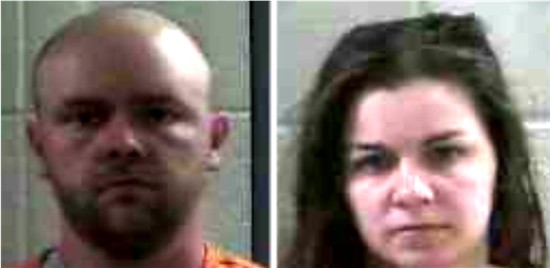 Laurel County, Ky, - Sheriff John Root is reporting that Detective Jason Back arrested two individuals on Monday morning March 16, 2015 at approximately 12:06 P.M. off Slate lick Road approximately 4 miles east of London.
The arrests were the result of an investigation conducted by the Sheriff's office while deputies were attempting to locate a wanted individual who had been fleeing law enforcement and who had allegedly brought a rented 2014 Jeep to the residence there, and stripped it, destroying it in the process.
While deputies were on scene conducting their investigations, they located 21.5 g of crystal methamphetamine in the bedroom in easy reach of both children that reside there.
Detective Jason back charged Robert Mayne age 29 and Prudie Smith age 28 both of Slate Lick Road, London, KY with hindering prosecution or apprehension – second-degree; endangering the welfare of a minor; trafficking in a controlled substance – first-degree – first offense – methamphetamine; receiving stolen property $10,000 or more; and criminal mischief – first-degree.
Both subjects were lodged in the Laurel County Detention Center.
Photos attached are courtesy of the Laurel County Detention Center.