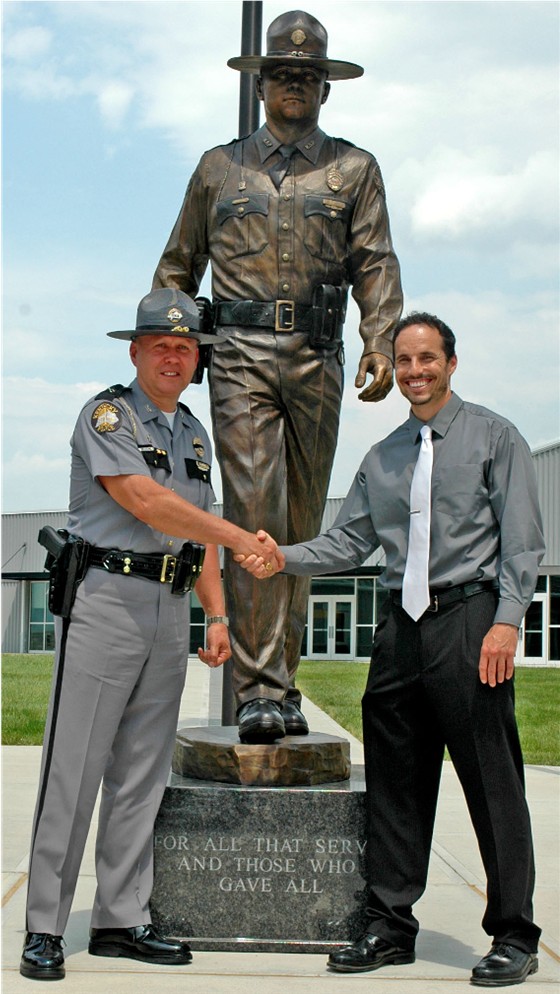 Kentucky State Police Commissioner Rodney Brewer (left) and sculptor Benjamin Victor (right) unveiled "The Trooper" statue at the Kentucky State Police Academy in Frankfort on May 11.
Frankfort, Ky. Monday, May 11, 2015 — The Kentucky State Police has strived to achieve a legacy of service, bravery and sacrifice.
With today's unveiling of a powerful new symbol, this history will be permanently honored. At nearly 10-feet tall, a masterfully crafted bronze statue, entitled 'The Trooper,' rises as the crown of the recently dedicated state police training academy. Rendered in formal uniform, the figure is posed striding toward the future, moving out to protect the citizens of the Commonwealth. "The statue is a permanent tribute to the troopers and officers of the Kentucky State Police who have made the ultimate sacrifice by giving their lives in the line of duty," says KSP Commissioner Rodney Brewer. "Moreover, it's about all those who have served since the agency's inception in1948 and made tremendous sacrifices on a daily basis to protect its citizenry." Twenty-eight troopers and officers have been killed in the line of duty. One of those victims, Trooper James McNeely, drowned during a rescue mission on the Kentucky River in 1972. His body was never recovered.
"This statue also honors the one we were not able to bring home," says Brewer. "In recognition, the statue's face bears a resemblance to Trooper McNeely."
World renowned sculptor, Benjamin Victor, took personal interest in his artful creation of the trooper statue. He was diligently sensitive to the image of the modern day Kentucky Trooper, carefully remaining true to all details of the iconic uniform.
The 35-year-old Victor is the only living sculptor to have two statues in the U.S. Capitol in Washington, DC. Working in both bronze and marble, he produces incredibly detailed monuments that function as tributes to great historical figures and contemporary heroes like police, firefighters or those who have served in the military.
"I am very proud to have been able to create this monument," says Victor. "I put a great amount of time and energy into making it for an agency I believe is more than deserving of a lasting tribute for its officers."
No public funds were used to pay for the statue. The KSP Citizen's Police Academy Alumni Association formed a 501(c) 3 non-profit organization called The Trooper Project to fund the effort. Many grass-roots fund-raising events and programs were held during the past year by agency employees and retirees to generate revenue. Activities included a Grand Canyon Honor Hike, t-shirt sales, a Bunco night, a Texas Hold'em tournament, a pancake breakfast, a leadership summit, motorcycle rides, a basketball tournament and more.
Major contributors to the fund included Commonwealth Credit Union, Delta Dental of Kentucky, Equestrian Events, Inc. and the Keeneland Foundation, Inc. KSP also partnered with Man O' War Harley-Davidson and the Calipari Foundation to raffle a basketball-themed Road King motorcycle signed by University of Kentucky Coach John Calipari.
"Today is the day where two journeys converge," says Brewer. "The first journey began when our agency was created. A journey of hardships and triumphs that forged the agency you see today. The second journey began nearly 10 months ago with a dream that turned into reality. It was a dream of having a special place that we hold sacred to pay homage to the men and women who protect the Commonwealth. Today that dream is a reality."
Brewer advised that the project has nearly reached its fundraising goal of $100,000 with a few more events planned to meet the financial obligations. To learn more about the project, visit TheTrooperProject.com