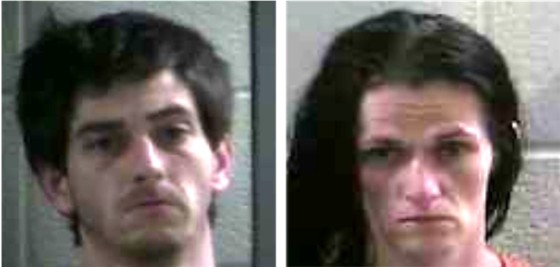 Laurel County, Ky. - Sheriff John Root is reporting that Deputy Andrew Lawson along with Sgt. Brett Reeves arrested two individuals off American Greeting Card road approximately 8 miles south of London while investigating a complaint of possible drug activity with a small child being present in the home, early Wednesday morning May 20, 2015 at approximately 6:22 A.M.
When deputies arrived at the scene and conducted an investigation they found marijuana, a small bag containing Trazadone, a small bag containing a clear crystal substance identified as Methamphetamine, and an assortment of pills not in a proper container.
A small child was present in the residence.
Deputies arrested Daryl Earls age 30 of Copley Road, Lily and Ashley Love age 26 of Corbin Manor Apartments, Corbin--both charged with possession of a controlled substance first-degree -first offense – methamphetamine, possession of marijuana, prescription controlled substances not in proper container - first offense, and endangering the welfare of a minor.
Both subjects were lodged in the Laurel County Detention Center.
Photos attached are courtesy of the Laurel County Detention Center.