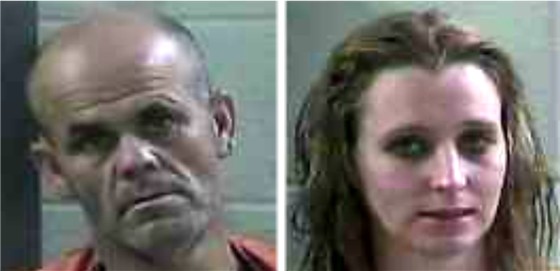 Laurel County, Ky. - Sheriff John Root is reporting that Deputy Shawn Jackson along with Deputy Kyle Gray and CSO Roy Ball arrested 2 individuals on KY 192 in London in a business parking lot early Sunday morning June 7, 2015 at approximately 5:40 A.M.
The arrests were the result of deputies receiving as many as five different complaints on these two subjects with the complaints originating at businesses off exit 29, approximately 9 miles south of London.
One of the two subjects allegedly had ran out in front of a vehicle on I-75 northbound prior to deputies locating these two subjects.
Deputies determined that both subjects were under the influence.
Arrested was Freddy Wombles age 50 of Paw Paw Road, Manchester and Jessica Barrett age 26 of Laurel Lake North, London both charged with public intoxication – controlled substances and both lodged in the Laurel County Detention Center.
Photos attached are courtesy of the Laurel County Detention Center.