Submitted by Dr. James M. Davis
Mr. Perry Thompson, born on September 23, 1951 departed this life on Sunday, June 7, 2015. If you participated in or were affiliated with youth athletics then you knew Perry Thompson.
Everyone involved in youth sports programs and with youth development programs knew that Perry was a true champion of young people! Perry was involved in youth programs at the Ramsey Ball Park in Manchester, Kentucky for many years.
Perry provided mentoring and sports tips to several generations of students. His support of all the various sports programs in the schools involved students in baseball, football, softball, and basketball. Perry provided important leadership in the expansion of access for young people to parks and sports recreation programs throughout the county.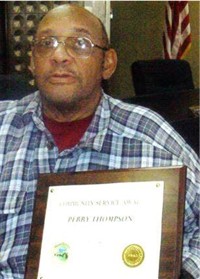 Clay County has lost a native son who was instrumental in helping countless young people reach their goals and many of them to earn their Black n' Gold Tiger stripes! TIGER NATION remembers a legend today!
"Perry was one of those people that always had a smile on his face and a positive attitude", said Davis. He was always willing to help a young person learn how to play the game of their choice, which helped them to develop skills such as team building, leadership, and being a good sport."
Pictured right is Perry holding a City of Manchester Community Service Award, city council desk in background.