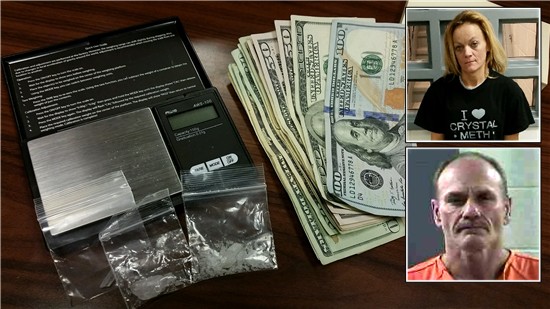 Laurel County, Ky. - Sheriff John Root is reporting that Laurel Sheriff's Detective Jason Back will be presenting a crystal meth trafficking case to a federal grand jury regarding an arrest of two individuals on Dolly Miller Road, 6 miles north of London on November 4, 2014.
The arrests were the result of a drug investigation conducted there after deputies located 2 subjects in possession of 3.37 grams of crystal meth and a set of digital scales.
Arrested was Deborah Delane Asher age 37 Jackson Ln., Somerset and Richard Jeffrey Rice age 57 of Dolly Miller road, East Bernstadt.
Both had been charged with trafficking in a controlled substance – first degree – first offense – methamphetamine.
No presentation was made before the Laurel County Grand Jury since it will be presented to a federal grand jury for possible indictment.
Photo attached of drugs seized.
Inset photos of the accused are courtesy of the Laurel County Detention Facility.
Related article: Meth Arrests