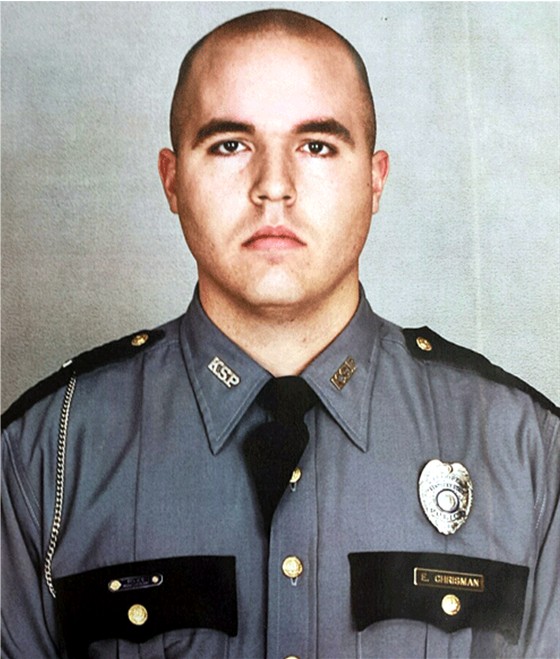 Grand Rivers, KY (Livingston County) - The Kentucky State Police is investigating a two-vehicle, fatality collision that occurred on US 62, approximately two miles west of Grand Rivers, on Tuesday, June 23, at 5:48 p.m. CST.
Trooper Eric K. Chrisman was operating a 2010 Ford Crown Victoria Police Cruiser westbound on US 62 responding to a reckless driving complaint when he failed to negotiate a curve. His cruiser crossed into the eastbound lane into the path of an oncoming 2015 Freightliner tractor-trailer operated by Richard A. Burnham Jr., 53, Benton, KY.
The cruiser was impacted on the driver's side. Trooper Chrisman was pronounced dead at the scene by the Livingston County Coroner, Jeff Armstrong.
Mr. Burnham was transported via KSP personnel to the Marshall County Hospital where he was treated and released. Both operators were wearing seatbelts.
Trooper Chrisman, 23, was originally from Lawrenceburg, KY and was currently residing in Eddyville while assigned to Lyon County. Trooper Chrisman graduated from the KSP Academy, Class 92, in January of 2015.
The crash remains under investigation by the Kentucky State Police.
The following agencies assisted at the scene: KSP CVE, the Kentucky Transportation Cabinet, the Calvert City Police Department, Livingston County Sheriff's Department, Lyon County Sheriff's Department, Marshall County Sheriff's Department, Grand Lakes Fire Department, Gilbertsville Fire Department, Smithland Fire Department, Calvert City Fire Department, Livingston County EMS, Marshall County EMS, Kentucky Department of Fish & Wildlife, Kentucky Dam Village State Park Rangers, the Livingston County Coroner's Office, the McCracken County Coroner's Office, and the American Red Cross.