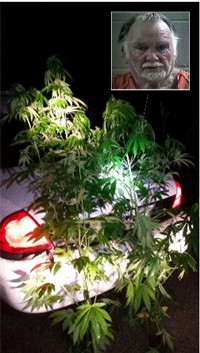 Laurel County, Ky. - Sheriff John Root is reporting that Deputy Rick Cloyd along with Sgt. Robbie Grimes arrested Clarion Frisby age 77 of Ray Johnson Rd., East Bernstadt on Wednesday night July 1, 2015 at approximately 9:30 P.M.
The arrest occurred off Ray Johnson Road, approximately 4 miles east of London after this subject was arrested for growing 2 marijuana plants in his front yard with his tomato plants.
One plant was approximately 5 feet tall and the other plant was approximately 6 feet tall.
Clarion Frisby was charged with cultivating marijuana and was lodged in the Laurel County Detention Center.
Inset photo of the accused is courtesy of the Laurel County Detention Center.
Photo of the seized marijuana plants provided by deputies.