Laurel County, Ky. - Sheriff John Root is reporting that Deputy Josh Scott arrested two individuals Tuesday afternoon July 21, 2015 at approximately 1:57 PM.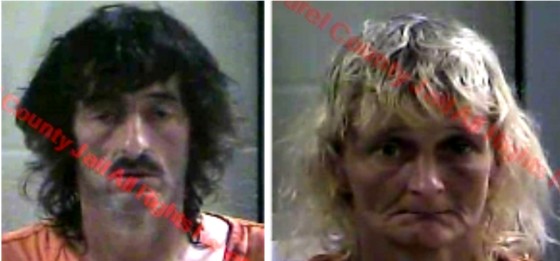 The arrest occurred off Pine Grove Road at Emma Apartments, approximately 10 miles south of London after deputies were dispatched to a complaint that a one-year-old juvenile child was running alone through the parking lot there.
When Deputy Scott arrived at the scene, he learned from bystanders that the child had been taken into an apartment there . Deputy Scott attempted to follow up on the investigation, however, could not get anyone to come to the door of the apartment where the infant supposedly had been taken.
Deputy Scott also learned that the infant involved apparently was in the custody of social services and not supposed to be in the care of the two individuals there. Additional deputies were dispatched to the scene to assist in retrieving the child, and while waiting Deputy Scott observed the suspect exit the apartment allowing him to confront the individual and complete his investigation and retrieve the infant child.
Following a short scuffle with the male subject there, 2 subjects were taken into custody and are identified as Egbert Hensley age 48 of Highway 22, Falmouth, Ky charged with public intoxication – controlled substances; menacing; resisting arrest; fleeing or evading police – second-degree – on foot; and felony custodial interference and Mitzi Hensley age 43 of Highway 22, Falmouth, KY charged with felony custodial interference.
The child was placed in the custody of social services, Falmouth, Ky.
Both arrested subjects were lodged in the Laurel County Detention Center.
Sgt. Josh Gaylor assisted at the scene.
Photos attached are courtesy of the Laurel County Detention Center.