Laurel County, Ky. - Sheriff John Root is reporting that Deputy Kyle Gray arrested two individuals on Seeley Road, approximately 4 miles west of London while investigating a complaint there involving two subjects in a gold colored Dodge Intrepid early Tuesday morning July 28, 2015 at approximately 1:39 AM.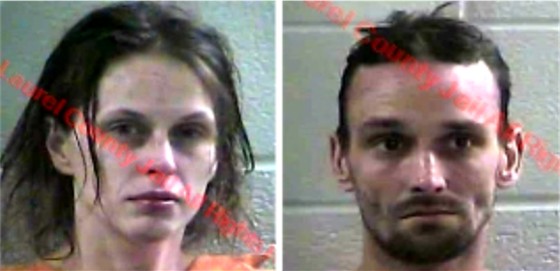 Deputy Gray noted that the female driver appeared to be extremely intoxicated.
The driver admitted drinking Absolute Vodka, and Kentucky Gentleman, smoking marijuana and taking oxycodone earlier.
Following investigation, this subject was determined to be under the influence.
The driver was identified as: Brittany Asher age 28 of Wilson Avenue apartments, Corbin charged with operating a motor vehicle under the influence – second offense; failure of non-owner operator to maintain required insurance first offense; license to be in possession; failure to wear seatbelts; and other traffic violations.
Also arrested was: Robert Allen age 36 Of Somerset Rd., London charged on two warrants of arrest – a Laurel County bench warrant of arrest charging failure to appear regarding a charge of flagrant nonsupport and a Laurel County bench warrant of arrest charging failure to appear in court regarding four counts of theft by unlawful taking.
Both individuals were lodged in the Laurel County Detention center.
Photos attached is courtesy of the Laurel County Detention Center.