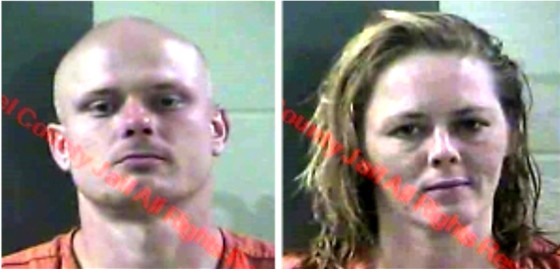 Laurel County, KY - Sheriff John Root is reporting that Sgt. Larry Parrott along with Deputy Tommy Houston and Deputy Shawn Jackson arrested two individuals early Monday morning August 10, 2015 at approximately 4:04 AM.
The arrests occurred on Flatwoods Road, approximately 10 miles south of London after deputies were dispatched to a disturbance complaint at the Flatwoods boat ramp parking lot.
When deputies arrived and conducted an investigation, they learned that there had been a brief altercation between a male subject and a female subject there.
Deputies also determined that both subjects were under the influence. Arrested was William Asher age 35 of Sowders Ln., London charged with public intoxication – controlled substances and assault – fourth degree.
Also arrested was Gena Smith age 39 Locust Grove Rd., Keavy charged with public intoxication – controlled substances.
In addition, this subject was charged on a Clay County bench warrant of arrest charging failure to appear in court regarding charges of alcohol intoxication in a public place and possession of open alcoholic beverage container in motor vehicle prohibited.
Both subjects were lodged in the Laurel County Detention Center.
Photos attached are courtesy all the Laurel County detention Center.