Laurel County, Ky. - Sheriff John Root is reporting that Sgt. Robbie Grimes along with Deputy Jamie Grimes and Bailiff Jack Caudill arrested two individuals off Barbourville Road in a business parking lot approximately 4 miles south of London on Thursday afternoon August 13, 2015 at approximately 2:53 PM.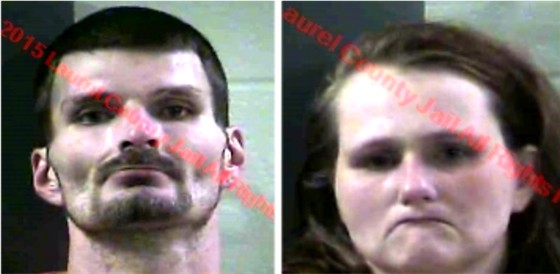 The arrests occurred after deputies were dispatched to a complaint of a male subject apparently high wandering around in the parking lot there.
When deputies arrived and located the male subject and conducted an investigation they learned that he had allegedly been taking Suboxone earlier in was determined by deputies to be manifestly under the influence of drugs and was arrested.
He was identified as Joshua Jones age 29 of McClure Bridge Rd., London charged with public intoxication – controlled substances.
As deputies continued their investigation in the parking lot there,they learned that the male subject had allegedly been riding in a vehicle-- a beige colored Pontiac Montana--- that was also located in the business parking lot and occupied by a driver that was also determined to be under the influence. The driver had a prescription of Suboxone on her person belonging to the male subject that had been arrested.
An investigation on the driver determined that she was under the influence and she was arrested and was identified as Melissa Ballinger age 36 of McClure Ridge Rd., London charged with operating a motor vehicle under the influence – second offense; operating a suspended or revoked operators license; failure of owner to maintain required insurance – first offense; failure to wear seatbelts; and numerous other traffic violations.
Both subjects were lodged in the Laurel County Detention Center.
Photos attached are courtesy of the Laurel County Detention Center.