Clay County, Ky. - Clay County jail records indicate that an individual who's been avoiding capture for over two weeks is now behind lock & key in the facility.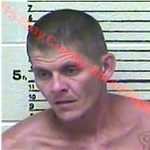 Arrested was: Chase Prilaman age 32 of Manchester, KY.
Allegedly, On July 30, 2015 Prilaman was traveling on Gregory Branch Road in the Horse Creek area of Clay County when he crashed head-on into a church bus with his vehicle and then fled the scene.
Reportedly, the bus was occupied by the driver and four children. No serious injuries were reported.
According to jail records, Prilaman was arrested by Clay County Sheriff's Deputy Napier. He was lodged in the Clay County Detention Center just after 11:00 P.M. Friday night, August 14, 2015.
At the time of this post Chase Prilaman was being held on a CASH bond of $5,000.00
Photo courtesy of the Clay County Detention Center.
* * * *
Earlier this year Prilaman was involved in a DUI crash at the intersection of US 421 and KY 80 in Manchester, follow the link below for story.
Crash at "Malfunction Junction" leads to DUI arrest - Clay County