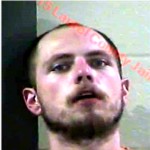 Laurel County, Ky. - Sheriff John Root is reporting that Deputy Rick Cloyd arrested Donnie Brock, Jr., 25, of East Wyrick St., Corbin, on Thursday evening August 20, 2015 at approximately 6:10 p.m.
The arrest occurred off South Stewart Rd., approximately 10 miles south of London after this subject was charged with disorderly conduct – second-degree; public intoxication – controlled substances and possession of a controlled substance first degree – first offense – methamphetamine.
This subject was determined to be under the influence and stated he had been smoking marijuana. However, Deputy Cloyd found this subject in possession of small baggies of a substance that appeared to be crystal meth.
In addition, this subject was creating a disturbance at Walmart in southern Laurel County. Donnie Brock, Jr was lodged in the Laurel County Detention Center.
Photo attached is courtesy of the Laurel County Detention Center.